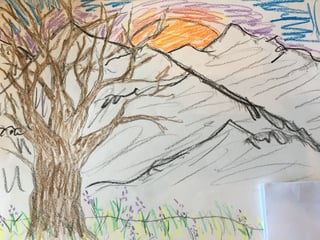 "Art is a kind of innate drive that seizes a human being and makes him its instrument. The artist is not a person endowed with free will who seeks his own ends, but one who allows art to realize its purpose through him." – Carl Jung
Can art really help define emotional health and contribute to addiction recovery?
We believe that true healing from addiction and dual diagnosis comes from addressing the underlying core issues that cause the substance abuse. Sometimes these underlying issues are buried deep, and a variety of tools, including art, can be used to understand and heal those issues in a holistic way.
And emotional health is necessary for any lasting addiction recovery.
So yes, art can indeed help define emotional health and support addiction recovery
The Clearing's Matt Aaron writes in this guest post for Psychology Tomorrow Magazine -
"Pure art (meaning without any expectation of selling it to someone) is pure expression of who we are inside. Art is a vehicle to express emotions. It can help us feel whole again, allowing us to heal."
Here are 3 of our favorite art-inspired techniques for emotional healing that we use in our highly-rated addiction recovery program. More detail can be found in the full article.
Affirmation Beads
An affirmation is a mantra, or statement designed to be repeated many times each day to re-focus the mind to your desired positive purpose and outcome.
Affirmations are one tool that can be used to form new neuro-pathways in the brain and replace habitual negative thinking with positive thoughts and outcomes.
Mandalas

Mandalas are geometric figures a person uses to represent wholeness - their unique relation to the universe. The circles of life can represent family, friends, love, etc.
Opposite-Hand Art

Opposite hand writing and drawing allow the recovering addict to reach the emotional parts inside that went through a traumatic experience and allow them to express themselves.
This allows you to address childhood traumas, which are very often an underlying cause of of issues with substances.
Read the full post at Psychology Tomorrow Magazine