The Only Alternative to 12-Step, Dual Diagnosis, Residential Inpatient Program in the Pacific Northwest
The Clearing is the only licensed treatment program in the United States presenting a 28 day residential wellness program to a group of ten individuals who will begin and end the session together. The advantages of a cohort are extraordinary. You'll learn to effectively resolve the issues holding you back in life in unison with others as you feel the safety and trust of a stable, supportive and equally dedicated community around you. The most significant advantage is you will be uninterrupted by the distraction of others abruptly joining or departing throughout your stay.
Professional, courteous and respectful with a well-documented, proven record of success, The Clearing is serious treatment for motivated people.
We get it. Past challenges don't have to determine your future.
Our innovative, residential wellness program focuses on healing the underlying core issues, which fuel substance abuse, depression, anxiety and other challenges to our mental health.
Participants join a small group for an uninterrupted and immersive curriculum-based program in our serene and secluded estate on San Juan Island in the Puget Sound of Washington State. Our 43-acre property is thoughtfully maintained with private rooms, chef-prepared meals and an attention to detail that allows you to comfortably heal.

Our clients represent a diverse, cross-section of the world. Graduates from The Clearing include employees from these community businesses and more: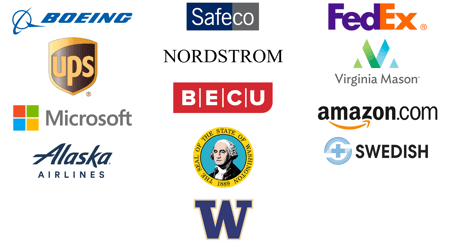 "The Clearing separates itself from all the others with its small group format of no more than 10 participants for the entire month, private bedrooms and bathrooms, 6 days a week of structured emotional and cognitive work based on science as well as evidence based psychology work.
The Clearing reveals a variety of methods, modalities and tools which comprehensively come together to re-frame the way you think, the way you view yourself and view the world. It does not infringe on your personal beliefs, nor does it concentrate on your "issue." It gets to the core emotional events, the root causes which have led you there.
If you are struggling with addiction and or depression and anxiety as I was, you'll learn to resolve these issues for the last time. You no longer have to live with it. The Clearing will change your life--and your family's."
- C.M.
How is our Program Different?
Our graduates have had tremendous success. Over 80% of our graduates report being free of their addiction. Equally important, success is measured in everyday life being an entirely different experience. Family dynamics smooth, patience, optimism and energy return and the strategies you learn here play a huge role in your unfolding life. You have new and effective ways to deal with issues that in the past would have caused life to become imbalanced.
Our focus on healing

underlying core issues

Groups

of 10 begin and end each session together
Approximately

120 hours of uniquely individual counseling
Evidence-based,

transformative wellness program
What is a Non 12-Step Rehab?
A non 12-Step program is just that, an alternative to traditional 12-Step addiction treatment. AA doesn't work for everyone. If it doesn't work for you, you have your reasons, and yours is the only opinion that truly matters.
Your task is to be proactive and empowered in finding something that works for you.
"This program changed my life. I have a whole, healthy new way of approaching life's challenges. The Clearing has given me an arsenal of tools to keep me sober."
- K.B.

Underlying Core Issues are the Real Problem
Underlying core issues become apparent when we began responding to experiences in our life in unhealthy ways. We can see and feel that our reactions are out of proportion or unrelated to the event at hand. When traced to their origin, you'll discover the underlying core issue causing the upset. The intense feelings, previously a mystery, now make sense and become understandable when you can see how they are connected to the present moment.
Understanding this concept is your first step to change. "The issue isn't the issue. The issue is how you are with yourself as you go through the issue".
Are you angry, intolerant, disappointed, impatient and frustrated with yourself and others when something isn't going as you planned or hoped? Have you noticed that an otherwise minor or manageable problem explodes into chaos when you respond from this place? Now there are hurt feelings, regret for things said, lines in the sand - if I only had cooled down before I responded.
Change is inevitable when you learn to be supportive, reasonable, solution oriented and patient with yourself when things go wrong. The situation exists either way, doesn't it? But the way you handle it makes it measurably better or worse.
Subtle and extreme traumas and entanglements from our past cause present events to trigger us into experiencing extreme reactions that take us completely by surprise, "why is this encounter bothering me so much?" "I thought I'd dealt with that, let it go"
Untying the knots that tie our past to our present experiences is the key to moving forward into a life lived fully in the present moment. We were never meant to carry past memories and experiences in ways that create suffering today.
Learn how. It's a whole new life.
Dual diagnosis means, along with substance abuse, you may be experiencing:
Depression
Anxiety
Self-loathing
Grief / Loss
Sadness
Hopelessness
Estranged relationships
Self-harming behavior

Low self-esteem
Lack of confidence
Ambivalence
Shame / Guilt
Regret
Health issues
Relationship problems
Suicidal ideations

Suicidal attempts
Trauma
Job loss
Isolation
Financial distress
Apathy
Lack of purpose
Loss of passion
Every individual is unique and there's no yardstick to measure a "traumatic" event. Trauma may be as subtle as a painful playground encounter or as horrific as the outer boundaries of assault, abuse or violation.
But in the uniqueness that is you, some events on the scale may vastly impact your life.
What if I'm Not Experiencing Substance Abuse?
The absence of substance abuse has no impact on your experience of healing in this wellness program.
A difficulty for people who are not challenged by substance abuse is "where can I go for healing?" Unfortunately, your options for treatment are often less structured; these may include relying heavily on medications, weekly counseling, and perhaps even mental hospitalization. Hospitalization is an option because, frankly, most addiction treatment programs would be very poor choices for your needs given their focus on substance abuse as the primary issue.
In our remarkable and substantive Program, healing your issues will be in lock-step with our curriculum. We don't focus or address individual substances because we know that's not the problem.
Regardless of the origin, our focus is entirely on the issues causing life to be out of balance.
Substances are merely the coping mechanisms some have chosen to deal with 'underlying core issues.' In your particular experience, you may cope in other ways: isolation, self-loathing, feelings of hopelessness, excessive exercise, ignoring or powering through your feelings; the list goes on and on.


" This is a life course. "Life 101". This info needs to be taught to all. If one truly wants to achieve any level of wholeness, health and self-actualization – this is the school. The Clearing is so, so much more than rehabilitation. I came for chronic depression and isolation and I'm leaving here firmly on a path I could only dream of before. I am forever changed and infinitely thankful. I never imaged a program could reach me when no self-help book, talk, retreat, loved one or even myself could. Each of the counselors so integral with specific skills and intuition. Not enough room to express my gratitude and awe at what has been created here. Thank You. "
- M.P.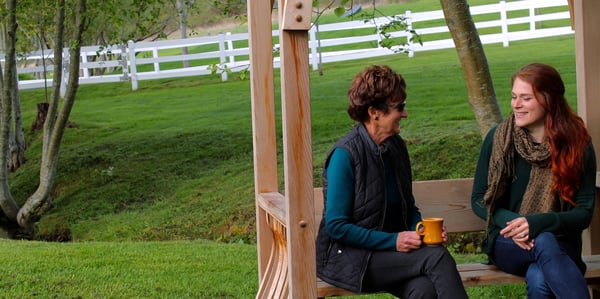 Healing Underlying Core Issues
You are not alone:
More than 30% of the adult population is currently experiencing a substance abuse issue which requires treatment.
Over 50% of us will experience debilitating mental or emotional issues in our lifetime such as depression, anxiety, stress, isolation, social anxiety, low self esteem.