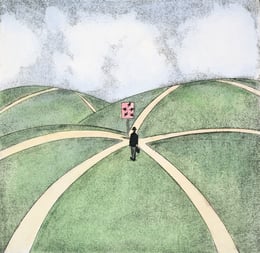 If you've been looking into residential rehab programs for any length of time, you already know that 12 Step rehabs are the most prevalent. But there are alternatives, and these are showing promising results and becoming the preferred option for an increasing number of people. Here's an unbiased comparison of 12 Steps vs non 12 Step rehab and treatment centers.
This post is an effort to provide an objective source of information about the two main types of residential treatment centers. The approach is straightforward. We'll list the pros and cons of both 12 Step and Non 12 Step rehabs, empowering you to choose the right program for your needs.
Some helpful advice: Try to resist putting the cart before the horse. Don't introduce rehab cost too early in your research. Add rehab cost and ponder payment options after you've selected the program that's right for you. Don't make this major decision based solely on what insurance will pay for; instead, choose an addiction treatment program that will help you change your life.
Pros and Cons of 12 Step Residential Treatment
Advantages:
Many options: If you decide to enter a 12 Step rehab, you'll have plenty of options, as 12 Steps is by far the most common treatment model. The

American Addiction Centers website estimates that 74% of United States treatment centers are 12 Step based.

Convenience: Given the prevalence of 12 Step rehab facilities, they are often the most convenient - with options in every state and many metro areas.
Aftercare: 12 Step support groups are ubiquitous and literally all over the country. From large cities to small towns, chances are you'll be able to find a 12-Step support group for weekly meetings.
Most covered by insurance: Given that 12 Step rehabs are the most common, they're also the ones typically covered by major insurance plans.
Affordable: Many 12 Step rehabs rely on volunteers to lead sessions and support. This is a significant cost savings vs professional counselors and therapists. With broad insurance coverage, they're generally more affordable for most families.
Cultural norm: 12 Step treatment programs are the current cultural norm for addiction recovery. The terminology of the 12 Steps has been integrated into popular culture to such an extent that many people assume that it's the only recovery game in town.
Disadvantages:
Low success rates: Harvard researcher Dr. Lance Dodes cites the results of a study concluding that the actual AA success rate is 5-10%.
No support for mental health (dual diagnosis): Many of the "other 90%" do not seem to respond to the 12 Steps approach have a concurrent mental health condition in addition to addiction. This is known as dual diagnosis - a condition such as depression, anxiety, self loathing, and Post-Traumatic Stress Disorder (PTSD) in addition to an addiction.
Volunteers vs. professional counselors: The 12 Steps were set up to be a member-driven brotherhood of support. Sessions are led by volunteers, often recovering alcoholics who have successfully been through the 12 Step program already. The trade-off is a lack of professional training and certification in deeper mental health and psychology issues, where most addicts really need expertise.
Lack of individualized care: Most 12 Step residential treatment programs do not provide the hours of individualized, one-on-one, professional therapy needed for individuals with mental health issues.
Dr. Dodes observes, "[AA programs are] useful for 5-10%. The problem is … that the other 90% of people who are referred to AA — and that is almost everyone with an addiction — are being hurt by being sent to a program that can't possibly help them."
According to 2013 CDC findings, nearly 50% of the general population will deal with a mental health issue over the course of their lifetime. And in turn, people with mental health issues are more likely to deal with addiction.
As Gabrielle Glaser writes in her 2015 Atlantic Monthly article The Irrationality of Alcoholics Anonymous, "People with alcohol problems also suffer from higher-than-normal rates of mental-health issues …. But AA is not equipped to address these issues—it is a support group whose leaders lack professional training …"
Pros and Cons of Non 12 Step Rehab Programs
Advantages:
More effective: Many non 12-Step rehabs claim success rates far above the 5-10% range associated with 12 Step programs. But be careful to ask how success rates are calculated and compare apples to apples when asking about success rates.
Integrate evidence-based psychology: Many of these programs integrate mainstream evidence-based psychological approaches. The best non 12 Step rehab programs are counseling-based, and they employ therapeutic techniques to heal the underlying core mental and emotional issues that drive people to abuse substances.
Support for dual diagnosis: According to some experts, a significant majority of those dealing with addiction also have a mental health condition present (dual diagnosis). Non 12-Step programs can be ideal for individuals with dual diagnosis, as many address the root causes of addiction.
More counseling: Generally, more mental health counselors and therapists are included in non 12-Step rehabs. This provides an opportunity for more customized counseling based on an individual's specific situation.
Diversity of approaches: Some non 12 Step rehabs are solely faith or spiritually-based, while others are medically-based and include tools such as amino acid injections to alleviate physical cravings. Still others are hybrid programs combining multiple approaches. So chances are you'll find one that aligns with your perspective and needs.
Disadvantages:
Fewer: According to SAMSHA (

Substance Abuse and Mental Health Services Administration), non 12-Step rehab centers

comprise about 26% of the all residential rehabs in the US. There are about 4000 residential rehabs, so 26% suggests about 1000 non 12-Step rehab programs. Not as many as 12 Steps, but still a sizable number.
Possible inconvenience: There are fewer non 12-Step rehab options, so they may not be as proximate to your home. But with about 1000 to choose from, there is still a likelihood there is something available to vast majority of the US population centers.
More limited insurance coverage: 12-Step alternatives are growing, but still the minority. They're less of a know quantity that 12-Step programs, and hence are not included in as many in-network or even out-of-network insurance plans.
Rehab cost: With limited insurance coverage and more professional counseling resources, non 12-Step rehab programs can be more costly from an out-of-pocket perspective. But many financing options are available. There are multiple ways to pay for rehab, including healthcare loans, borrowing money from friends and family, and crowdfunding.
Viable 12 Step Alternatives
For many years, 12 Steps based recovery was the only option for individuals seeking alcoholism or addiction treatment. That history influences its ubiquity today.
As Gabrielle Glaser writes in her 2015 Atlantic Monthly article The Irrationality of Alcoholics Anonymous, "The 12 Steps are so deeply ingrained in the United States …. Hospitals, outpatient clinics, and rehab centers use the 12 steps as the basis for treatment. But although few people seem to realize it, there are alternatives …. Unlike Alcoholics Anonymous, [some of] these methods are based on modern science and have been proved, in randomized, controlled studies, to work."
So don't just choose your rehab program based on what "everyone else" is doing. As you now know, published success rates of 12 Step programs can be as low as 5-10%. If you're in the other 90-95%, do your research and make a choice based on what seems right for your recovery.
More on 12 Steps vs Non 12 Step Treatment
For even more information on the
Non-12 Step Approach
and how it compares to other treatment approaches, download our free eBook, Another Look at The Twelve Steps: