Residential Treatment
Drug and alcohol addiction can feel debilitating. Many people struggle with addiction for most of their lives. The potential for relapse and an ongoing fight with addiction are why you need quality treatment. Residential treatment provides the most comprehensive care for a strong recovery and your best chance of lasting sobriety.
Many factors influence whether residential treatment best meets your addiction treatment needs. These factors include
Need for intensive therapy to address dual diagnosis conditions
Need for services after treatment, such as aftercare, to keep you strong in your recovery
Need removal from your home environment of triggers and temptations
Need 24/7 care and protection to keep you sober while you address your issue
Differences Between Residential Treatment and Outpatient Programs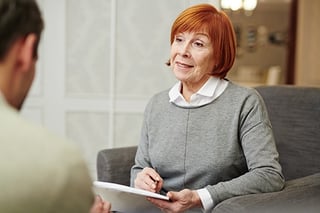 Addiction treatment programs come in many forms. The most common types of rehab include residential treatment, outpatient, intensive outpatient, and partial hospitalization. Residential rehab provides the most intensive treatment over all of the other options. Going through a residential program means living at the facility and gaining 24/7 support, attention, care, and guidance.
During residential rehab, professionals will help you develop a specialized treatment plan designed around your individual needs. Since you live at the facility, you put all of your energy and attention into this plan and your recovery. You also gain ongoing progress reports and your treatment changes according to your changing needs.
Conversely, during outpatient rehab, you experience continuous exposure to your triggers and temptations when not at your treatment facility. You'll need strength and support to get through those rough periods in early recovery. Without this support and ability to keep yourself from relapsing, outpatient treatment likely won't provide the level of care you need.
Other Benefits of Residential Rehab
Being in a safe environment is one of the most significant advantages of residential program treatment. It allows you to gain unbroken focus on your recovery. You'll have continual support whenever you need it.
Another benefit of residential treatment includes being surrounded by peers in recovery. You and your peers in treatment lean on each other, provide mutual support, and share firsthand experience dealing with similar issues. It also provides greater support than in an outpatient program.
During residential rehab, you'll have more time to heal. You gain greater physical and psychological wellness after ceasing drug or alcohol consumption. You build strength, get healthier, and feel much better. You enjoy greater exposure to counseling, ensuring you gain deeper insight to yourself than other programs offer.
Residential Rehab in San Juan Island, Washington
When you seek lasting recovery, consider the residential program of The Clearing. The Clearing provides safe, loving and healing residential treatment on a beautiful 43 acre estate. Because our treatment facility is only accessible via ferry, there's little chance of abandoning your treatment early. You also experience safety from triggers and temptations of your everyday life.
Residential substance abuse programs of The Clearing include:
Treatment for addiction, traumatic events, and mental health issues
28-day residential rehab
Treatment in peer groups of no more than 10
A safe, loving, healing and respectful environment
If you are considering treatment, please give us a call and we will help you carefully and respectfully consider your choices.
Questions? We're Here to Help
Selecting the right treatment option can be a complicated decision.
Call us as at 425-275-8600 to discuss your specific situation and see if The Clearing may be right for you. It's confidential and there's never any pressure.
We're here to help