We talk to a lot of people who are researching the best option for addiction treatment for themselves or a loved one. Without exception, they crave unbiased information so they can make an informed decision. We certainly talk about our program for healing underlying core issues but also attempt to educate as best we can on other programs and the differences.
So in this and upcoming posts, we'll craft reviews/ratings of some well-known residential treatment centers for substance abuse and addiction rehab, and layout the pros and cons. Today we'll look at Schick Shadel.
Schick Shadel Drug and Alcohol Rehab Center
Brief description:
Schick Shadel Hospital was established in 1935 and uses a process known as "aversion therapy" to treat alcohol and drug addiction.
It's a 139-bed addiction treatment center in Seattle, WA. Amenities tend to be fairly plain, yet comfortable and the facility can claim several well-known names among its alumni, including local entertainment industry guru Pat O'Day.
Schick Shadel offers a 10-day inpatient addiction treatment program plus two follow-up "booster" 2-day stays at the 30- and 90-day mark.
According to their website, Schick Shadel treats the following substance addictions:
Medical (prescription meds)
Alcohol
Drugs
Cocaine
Methamphetamine
Marijuana
Oxycontin & Opiates
They treat adults, and young adults, with high marks for being "exceptionally LGBT-friendly."
12-Steps vs. Non 12-Steps: Non 12-Steps
Schick Shadel is a non 12-step program.
They operate under the neurological (addiction is a disease) model of addiction and employ a counter-conditioning model called aversion therapy. Counter-conditioning simply means that the patient is conditioned to experience discomfort at the sight, smell, or thought of their preferred substance, which they previously had associated with pleasure and relief from pain. The counter-conditioning is administered in two forms:
Emetic (chemical intervention), generally used for alcohol counter conditioning; or
Faradic, administered to patients when chemical counter conditioning is not advised.
Treatment consists of days alternating between counter-conditioning treatment under medical supervision and relaxing, minimal-sedation rehabilitation interviews and relaxation therapy.
Aversion therapy is not without controversy.
The practice was described on CitySearch by alumni That1guy as "A Clockwork Orange…but with more vomit." Alum TRickR reported to CitySearch "Not for the weak of heart," and a spouse of an alum anonymously told Rehabs.com that, while the program worked for her husband, "Aversion therapy isn't for everyone - choose the treatment regimen carefully."
This treatment approach is based on the neurological disease model of addiction and therefore focuses on the body, rather than the mind.
However, patients are guided to craft a two-year discharge plan that may include referrals to local 12-Step support. Although Schick Shadel's program is firmly based in the physiological realm, patients are offered counseling, education, and relaxation therapy to aid in treating their addiction.
During the 10-day inpatient stay, the medical program consists of:
Complete physical exam
Electrocardiogram
Liver function test
Daily physician review
Five (5) counter-conditioning therapy sessions
Standard lab test
Pregnancy test (if applicable)
Urine drug screen
Four (4) rehabilitation interviews
Pricing / Costs
Treatment costs at time of this writing without insurance coverage is $27,450 (including detox) for a 10-day inpatient program.
Schick Shadel works with most insurance companies and offers financing through Prosper Healthcare Lending and Associated Behavioral Health. Generally, payment is required prior to admission and all reimbursements will go directly back to the insured.
Schick Shadel Experience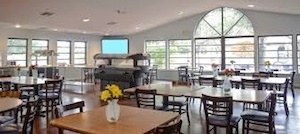 Upon inpatient admission, patients are taken to medical detox if needed or admitted directly for a comprehensive physical.
Patients are then given both their addicted substance and a vomiting-inducing medication, both in carefully monitored dosages.
Clients receive personalized care for the high cost, and this is reinforced by the friendly and attentive staff. Upon admission, residents meet with a coordinator who lays out an individualized treatment plan. The typical plan includes being put under by mild sedation and asked a series of questions, which is typically referred to as "relaxation therapy."
Three meals are served per day, with a lounge area with snacks and beverages open 24 hours. The cafeteria boasts floor-to-ceiling windows with amazing mountain views.
The facility includes a ping-pong table, library, outdoor walking path, exercise room, and lounge.


---
Pros:
High self-reported success rate*

Track record since 1935

Counseling, education, and relaxation therapy offered in addiction to aversion therapy
Covered by most insurance plans
Internationally-recognized treatment facility
Each private room has a TV, DVD player, phone, and WiFi. Personal computers and cell phones are allowed.
Offers a 2-year aftercare program.
* Schick Shadel's success rate is based on "verified findings of a survey of former patients compared to published success rates from verified, comparable studies of other medical institutions." Success is measured as total abstinence for one year per a self-evaluation.
---
Cons:
Aversion therapy is not a good fit for everyone
Aversion therapy does not address underlying core issues that caused someone to use
Large hospital setting
Costs may be prohibitive for some
Summary Thoughts on Schick Shadel Drug and Alcohol Rehab Center
An established and historical player in the aversion therapy treatment of addiction, Schick Shadel is the oldest such program in the country. If you're a person who can tolerate and embrace the aversion approach, this is worth a look.
According to the review site Rehabs.com, Schick Shadel scored a 3.7 out of 5.0.

Other Schick Shadel Alumni Comments and Reviews
Schick Shadel has been around for many years, with a large alumni, so you'd expect to find a lot of reviews/ratings. Many are very praising; a few less so. We suspect this has a lot to do with whether their non 12-step approach really resonates with you and your situation.
"This place saved my life! As a hard drinker unable to stop this place made it so I don't have craving or an urge to drink. This place is simply amazing. Patients are friendly and wanting to get sober unlike other rehabs. The staff is incredible. If you or a loved one are serious about getting sober go here!"

7/9/14 (Yelp)
"

2 years after going to Schick Shadel Hospital I am still sober and smell of booze makes me physical ill. Now here is the deal, the program works and I am greatful, but don't expect any support after your done with the program. I have called several counslers at Shick Shadel Hospital to check in and they will never call you back. Seems like once they have been paid they no longer are interested in your recovery or how you are doing. Very sad, very sad.

" - Educated Consumer, 01/15. (CitySearch.com)
"I had had some exposure to "12 Steppers" in the past, and it seemed to me that they existed in some permanent state of guilt and always on the verge of relapse. I never wanted any part of that...

Anyway, I'm happy with it as are my fellow patients that I keep in touch with and so are thousands of others who have passed through those doors.

Strongly recommended." – Bob W., 01/15 (CitySearch)
About The Clearing
The Clearing is a residential treatment center located on beautiful San Juan Island, Washington. We created The Clearing in response to the pervasiveness of treatment centers that focus more on luxury than modern, evidence-based therapy.

Our approach is based on healing the underlying core issues that cause addiction. If you'd like to learn more, contact us, or download our free eBook.