We talk to a lot of people who are researching the best option for addiction treatment for themselves or a loved one. Without exception, they crave unbiased information so they can make an informed decision. We certainly talk about our program for healing underlying core issues, but also attempt to educate as best we can on other programs and the differences.
So in this and upcoming posts, we'll craft reviews / ratings of some well-known residential treatment centers for substance abuse and addiction rehab, and lay out the pros and cons. Today we'll look at Cliffside Malibu Rehab Center.
Cliffside Malibu Drug and Alcohol Rehab Center
Brief description:
Billing itself as the "The Finest Drug & Alcohol Addiction Treatment Anywhere in the World" Cliffside Malibu literally sits along a cliff side on the Pacific Ocean in Malibu, CA. Founder and CEO Richard Taite, a recovering addict (crack, heroin, etc.) originally purchased the property to live in himself. The home evolved into an addiction treatment facility, with nice luxurious touches like flat screen TVs, 1000-thread count sheets, and down pillows and comforters in each of the 12 bedrooms. Cliffside Malibu has been host to some famous celebrity addicts, including Lindsey Lohan. Cliffside Malibu proudly talks about their safe, secure, luxurious, and loving environment. Their treatment modality focuses around helping the patient get to the bottom of their "issues," in order address addiction. Cliffside Malibu strives to treat the "whole" person, with acupuncturists, herbologists, massage therapists and holistic medicine practitioners. Length of stay ranges 30 to 120 days.
Cliffside Malibu has 3 levels of care:
Primary Care (includes medical detox if needed);
Extended Care; and
Continuing Care
Each level of care is a minimum of 30 days in length and may be at different cost structures depending upon the client's needs, desires, and availability. All 3 levels of care takes about 90 days.
Cliffside Malibu also is a strong proponent and practitioner of evidence-based addiction treatment, which they define as "the conscientious use of the best practices available. These treatments are scientifically proven to produce positive results." We haven't seen the data ourselves, so we can't necessarily verify this claim.
12 Steps or Non-12 Steps: 12 Steps With Other Complementary Therapies
Cliffside Malibu employs the AA 12 Steps but starts with a 3-step approach:
One-on-one therapy using the Stages of Change model. The Stages of Change model is a psychotherapeutic tool used to addresses fundamental issues that should lead to lasting recovery – meeting an addict where he is at that point in time and then moving him through the process of becoming willing, then able, to make the changes he seeks.
Complementary intensive evidence-based holistic treatments in conjunction with psychotherapy.
Combining the first two steps synergistically for each individual
Cliffside Malibu uses the 12 Steps as an adjunct to other forms of therapy. Spirituality is also introduced and integrated, though not specific to any religion.
Pricing / Costs
Average Cost: $53,000 (shared bedroom) - $80,000 (private bedroom) for 30-day stay (estimated)
The Cliffside Malibu Environment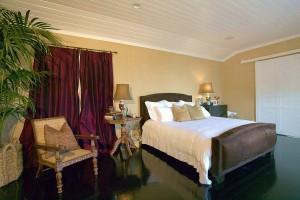 Due to its premium price, you'll find mostly white, well-off professional types at Cliffside Malibu, with ages ranging from late 20s to early 40s. Generally there is a 50/50 split between men and women. Sometimes you'll be joined by various ethnicities, gay men and lesbians, and older clients as well. There is a large living/dining area, with gourmet and high-end buffet food. Expect healthy, well-balanced and nutritious meals—with plenty of fresh fruit and veggies. Chefs can also cook to order for all dietary needs. Comfort food is available too - bacon is available every morning at breakfast; beef tenderloin and pasta are popular for dinners.
Outside of the addiction treatment program schedule, residents have access to cable TV, Internet, and their mobile phone.
Interesting Differentiator: Cliffside Malibu Guarantee
Cliffside Malibu also offers a guarantee on your rehab experience, which you don't see too often in the addiction treatment industry. They state "if a client completes all 3 levels of care at our facility and follows our aftercare recommendations, but has a relapse prior to obtaining one full year of sobriety, then Cliffside Malibu will take the client back into our 30-day Primary Care program free of charge." This guarantee can reduce anxiety about the commitment and financial investment in their addiction treatment program, and also shows that Cliffside Malibu has strong confidence in their own residential treatment approach. We haven't seen numbers on how many clients take them up on this guarantee.
Pros:
Going after the underlying core issue
Private room and bath
Holistic approach
Stages of Change model
Medical detox available
Luxurious accommodations with180-degree ocean views
According to their statistics, they have a recovery rate at one year around 70%, compared to 8-13% success rate for standalone 12 Steps programs. (see caveat below)
AAA company rating from Business Consumer Alliance (1/28/10)
Guarantee
Cons:
Cliffside Malibu is at the very top end of the market in terms of accommodations and related costs. Cost may be prohibitive for some (approximately $50,000 - $80,000 for 30 days)
Extended time: 90 days to complete all 3 levels of care
While some people have been successful with the AA 12 Steps approach, many others have not
Clients enter and leave the program continuously, which may be disruptive to group living and group therapy progress.
Some suggest the luxurious and pampered approach reinforces the "me, me, me" mentality of clients
Outside AA 12 Steps meetings 5x / week which outsources processing to the local community and limits personal processing time
CAVEAT: A note on the success rate data for Cliffside Malibu and others
It's easy to get confused on the numbers, so just a caveat to be careful. For example, Cliffside Malibu founder and CEO Richard Taite suggested during an interview on the "Today" show that "90% of clients who complete treatment stay sober."
There is no standard transparent way to verify this success rate, however, and others take a dimmer view. According to John Kelly, director of the Addiction Recovery Management Service at Massachusetts General Hospital and an associate professor of psychiatry at Harvard Medical School, such statements are "just snake oil salesmanship." He added, "There aren't hard figures, but on average probably about a third of residential program inpatients are in remission one year after intervention."
Summary Thoughts on Cliffside Malibu
They've built a beautiful center with some noted results with a 12 Steps foundation and holistic approach. Progressive use of "Stages of Change" model to meet the client where they are in the process. Luxurious. Very costly, so may not be accessible to most.
Other Cliffside Malibu Alumni Comments and Reviews
Cliffside Malibu was established in 2005 and has been building alumni for several years, some of which have provided comments and reviews / ratings. Many are very praising; a few less so.
"They honestly care," said one, about the rehab's staff. "They helped me with issues I didn't even realize I had that were contributing to my dependency. They treat you as a whole person." (3/8/12 on thefix.com)
"First..the good: Nice people took care of my husband there. Really good food. Nice comfortable rooms. Beautiful view. Next..the not-so good: There is NO "holistic" detox as they proclaim. I wished he was on herbs and supplements that would help him through this process but they only had him on a crappy multivitamin and B-1.. Also....this place is ALL about the money... Not helpful in getting insurance to pay for this at all. They just want their $50,000 and don't care about the impact it has on the person or their family. Their therapy is VERY AA-based .... so if you're not into AA don't look here! The good news is that he's still sober after 5 months so something worked there...at least for us."- Sharon S., Pacific Palisades, CA, 1/15/13. (yelp.com)
"I just got out of Cliffside. I spent 60 days there and I can tell you that my therapist was excellent. This is the first place I've been to that was therapy-based and not AA based. In fact other than taking us to [AA] meetings five nights a week there's no mention of AA at all. The few people that are anti-AA don't have to go if they don't want to, but most end up going because they want the outside socialization. Overall my experience was very positive and I would recommend Cliffside to anyone I cared about." – Andrew G., Beverly Hills, CA, 5/25/13. (yelp.com)
"My boyfriend stayed here in January 2012... It looked like a great place and they are all over the media. So after I asked one of the locals why they posted such good info about this place and they stated he paid for it...They did not help my boyfriend. Soon after he went into a [different] rehab." – Alsheeta K., Beverly Hills, CA, 9/26/13. (yelp.com)
About The Clearing
The Clearing is a residential treatment center located on beautiful San Juan Island, Washington. We created The Clearing in response to the pervasiveness of treatment centers that focus more on luxury than modern, evidence-based therapy.

Our approach is based on healing the underlying core issues that cause addiction. If you'd like to learn more, contact us, or download our free eBook: