12 Steps Step 9: Forgiveness or Disempowerment?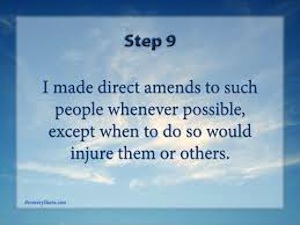 This is the 9th in our series of reviews of the 12-Steps addiction treatment program and how each step compares with a 12 Steps alternative approach. We understand the 12 Steps have helped many, many people over the years, and we respect that success. We also recognize that the approach does not work for everyone. The main purpose of this series is to present some potential limitations with the 12 Steps that you may not have considered. We want to make it easy for you to understand the differences as you go through your addiction treatment research.
What is the AA 12 Steps Addiction Treatment Program?
The AA (Alcoholics Anonymous) 12 Steps program has been in existence since 1939. It was created by an alcoholic for other alcoholics, and relies on group support and behavior modification to a very large degree. It is still the main healing protocol and approach in the vast majority of addiction treatment programs (including very expensive residential treatment centers).
Since that time though, there have been many breakthroughs in psychology, spirituality and healing, but the 12 Steps have not been updated to take advantage of these advances.
With that let's take a look at the 9th step, 12 Steps Step 9.
Potential Limitations of 12 Steps Step 9
Step 9 of the 12 Steps program states:
"I made direct amends to such people whenever possible, except when to do so would injure them or others."
Are we empowered or disempowered by making amends to the people in our lives we may have harmed?
12 Steps Step 9 of Alcoholics Anonymous deals with the spiritual principle of forgiveness.
In seeking forgiveness from others, we may be looking in the wrong direction.
Is it noble to seek people out and get them to forgive you?
Yes, absolutely.
But what happens if they refuse to forgive?
Perhaps the hurt is too deep or they are just not in a place to explicitly extend forgiveness yet. Are we still injured with no hope for recovery?
The drastic difference between a psychological approach and the 12 Steps approach to addiction treatment comes to a head here. When we look for relief through another person, we disempower ourselves. We literally place our healing in their hands.
We lose independence and control over our healing and our destiny.
Guilt or Embarrassment as a Motivator
Alcoholics Anonymous makes an interesting point here.
The temptation to minimize one's substance abuse and skirt the issue can easily lead to somebody relapsing, so perhaps embarrassing them may give them a jolt of reality. We have more faith in our fellow man. When somebody makes a decision to stop using drugs, alcohol, or other substance, they are all too aware of how they have not only damaged themselves, but also how they have hurt other people.
Should the rest of us pile on and and add to their guilt and uncomfortable feelings? Should we make them feel more ashamed? Or just help them fully heal?
True Forgiveness Comes from Within
Like the AA 12 Steps, we believe forgiveness is not only important but absolutely necessary.
Forgiveness from others is nice but ultimately not essential.
Self forgiveness is ultimately what matters for the person to get on the road to true healing.
We are the ones that have to live with us all of the time. We are the ones that need to control and "own" our behavior, our relationships, and our healing. Therefore the most important form of forgiveness must come from within.
In learning how to address the underlying mental and emotional issues and then forgive yourself, issues can be released forever. This can't be found through forgiveness from others.
Image Credits: RecoveryShare.com, wikihow.com
About The Clearing
The Clearing is a residential treatment center located on beautiful San Juan Island, Washington. We created The Clearing in response to the pervasiveness of treatment centers that focus more on luxury than modern, evidence-based therapy.

Our approach is based on healing the underlying core issues that cause addiction. If you'd like to learn more, contact us, or download our free eBook: