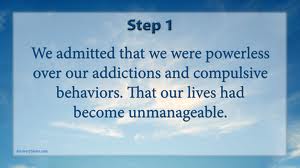 We're starting a series on the 12 Steps addiction treatment program and how each step compares with a 12 Steps alternative approach, in our case the Spiritual Psychology approach.
We understand the 12 Steps have helped many, many people over the years, and we respect that success. We also recognize that the approach does not work for everyone. We'll look at each individual step until we're done with all 12 Steps.
The main purpose of this series is to present an alternative perspective on the 12 Steps you may not have considered. We want to make it easy for you to understand the differences as you go through your addiction treatment research.
What is the AA 12 Steps Addiction Treatment Program?
The AA (Alcoholics Anonymous) 12 Steps program has been in existence since 1937 -- before television! It was created by an alcoholic for other alcoholics, and relies on group support and behavior modification to a very large degrees. Since that time, there have been some amazing breakthroughs in psychology, spirituality and healing, but the 12 Steps have not been updated to take advantage of these advances.
With that said let's look at the first step, 12 Steps Step 1.
Another Perspective on 12 Steps Step 1
Step 1 of the 12 Steps program states:
We admitted we were powerless over alcohol - that our lives had become unmanageable.
12 Steps Step 1 is an affirmation. Affirmations can be both positive and negative. We now know there is extraordinary power in the spoken word. Affirming that you are powerless makes it so. Affirming that your life is unmanageable makes it so. So a big problem with Step 1 of the 12 Steps is that it can be dangerous, destructive, and counter-productive.
"Speech is the mirror of the soul; as a man speaks, so he is." -- Publilius Syrus
The reality is each and every human being wields extraordinary power with the spoken word and with this can create both positive and negative experiences. This is especially true in recovery and addiction treatment.
Each of us creates - both consciously and unconsciously - in every moment of our lives. According to Psychology Today, the average person has up to 50,000 thoughts a day and most of them are negative, which causes stress, illness, poverty and addiction. Our approach, based on the Principles of Spiritual Psychology, enables learning to consciously create positive thoughts will manifest wellness, abundance, and joy. This is called a positive affirmation and can be learned and mastered with extraordinary effect on your life.
12 Steps Step 1 is a Negative Affirmation
This is the core potential issue of Step 1 - it is a negative affirmation. Regardless of the addiction treatment program you choose, we suggest you never make a negative affirmation. A negative affirmation will always create a negative result. By affirming that "we are powerless over alcohol - that our lives had become unmanageable.." then the psychic and emotional tendency is to fulfill this and make it true. Of course, this is the opposite of the desired outcome for addiction treatment and the fundamental issue and potential problem with Step 1 of the 12 Steps.
We're here to help. Call or contact us with questions on 12 Steps Step 1 or any of the 12 Steps.
About The Clearing
The Clearing is a residential treatment center located on beautiful San Juan Island, Washington. We created The Clearing in response to the pervasiveness of treatment centers that focus more on luxury than modern, evidence-based therapy.

Our approach is based on healing the underlying core issues that cause addiction. If you'd like to learn more, contact us, or download our free eBook: