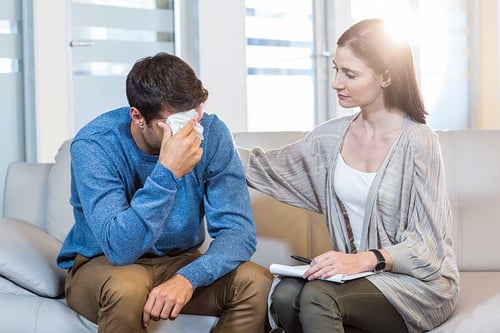 October is a big month for mental health awareness. In fact, this month has not only Mental Illness Awareness Week, but also National Depression Screening Day (NDSD). This event spreads awareness about depression and encourages people to screen themselves. The more that people learn about depression, the easier that they can get help when they need it.
Specifically What Is National Depression Screening Day?
National Depression Screening Day is a special day that creates awareness for depression. The goal is to help people screen themselves so that they can catch this disorder in its early stages. Remember that a screening isn't a diagnosis. It just lets people know if it's time to go see a professional.
This year, 2018, marks the 25th year of NDSD. It occurs on the Thursday of the first full week of October, so it falls on Oct. 11, 2018. While some organizations offer online tests to screen for depression, people can also get screenings at hospitals, clinics and colleges.
What Types of Activities Occur on NDSD?
Besides screenings, the public can partake in many activities during NDSD. Spreading education about depression is one of the most important. Through education, people learn that depression leads to other problems such as addiction, strokes and heart attacks.
Typically, several walk events take place during NDSD. These events aim to raise money to help people who struggle with depression and to spread awareness further. With the raised funds, scientists can also create new screening methods that catch depression even earlier.
Why People Need to Screen for Depression
Depression is one of the most common mood disorders in the world. It's a serious medical illness that can lead to many other disorders. For example, people who struggle with depression have an increased chance of developing addiction and anxiety.
Studies show that by the age of 18, one out of every five people experiences clinical depression. It affects them at work and school and in their social lives in general. The disorder prevents them from enjoying activities that they love as well.
To make matters worse, only about one-third of people who suffer from depression get the help that they need. Unfortunately, it's common for those who don't get treatment to commit suicide.
We Can Help You Fight Depression
When looking for a depression treatment program in WA, consider The Clearing. We offer dual diagnosis treatment, which gives us the ability to treat addiction and underlying mental problems. We strive to create unique treatment plans that focus on the physical, mental, and spiritual effects of addiction. For example, some of the other services that we offer include:
Spiritual, but non-denominational treatment
Holistic treatment options
Don't let your depression or the depression of a loved one go unnoticed. Learn more about National Depression Screening Day. Reach out to us today at 425-275-8600 for more information about how we can help.