28-Day Residential Rehab

At The Clearing, our residential rehab program sessions run for 28 days. Instead of having clients come in and out of our facility throughout the month, we have groups begin and complete treatment together. This not only eliminates distractions, but it also allows us to create a cohesive and supportive group.
Because we believe continuity is vital to recovery, our 28-day residential rehab program builds progressively. Participants spend Mondays through Saturdays in active sessions and alternative therapies. Sundays are a free day where visitors are welcome.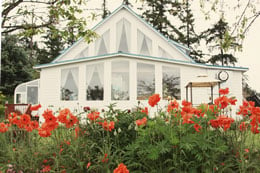 During their time at The Clearing, participants will undergo an immersive rehabilitation experience that includes workshops, individual therapy, group therapy, homework, projects, reflective time, reading, and meditation. These meaningful activities help identify, explore, and heal destructive underlying core issues.
For those who need to address their chemical dependency prior to entering our residential rehab program, we have recommended medical detox options. Once medical detox breaks your physical drug or alcohol dependency, our program will work with you to address and heal your underlying psychological issues that contributed to your addiction.
Typical Residential Rehab Schedule at The Clearing
We've structured our 28-day residential rehab program to facilitate engagement and healing. Here's a typical daily and weekly schedule:
Monday - Saturday
Sunday
7:30am – 9:00am
Yoga/Tai Chi & Breakfast
Breakfast
9:00am – 1:00pm
Workshop
Free time.

Family visits permitted Sunday afternoon.
1:00pm – 2:00pm
Lunch
2:00pm – 6:00pm
Group and individual therapy
6:00pm – 7:00pm
Dinner
7:00pm – 10:00pm
Free time:
• Reading
• Homework
• Movies
• Etc.
Greater Seattle Residential Rehab Program
The Clearing is a located on a peaceful 43-acre estate on beautiful San Juan Island, part of a group of nearly 200 islands collectively known as the San Juan Islands, about 75 miles north of Seattle, WA in the beautiful Pacific Northwest.
Private & Semi-Private Room and Bath
The residence has six private rooms and two semi-private rooms, and six private baths and two semi-private baths.
Group Program
While other programs intake and discharge clients daily and create a distracting and disjointed experience, Participants at The Clearing enter and leave as a group. A group that begins and ends together allows for a structured, solid, progressive program of learning. Everyone moves forward at the same pace, one day building upon another.
Cost Transparency
The Clearing publishes its residential rehab program charges – no surprises or hidden costs. Our pricing is about half the cost of many comparable residential treatment centers. See our rehab price comparison for more information.
Fresh, Seasonal, Home Style Food
At The Clearing, we're committed to providing delicious, home style, healthy and pleasing menus. Whenever possible, we use locally-sourced and organic ingredients. You'll enjoy three meals plus two healthy snacks per day. We want you to always look forward to mealtime!
Estate Setting
Located on a 43-acre estate, our holistic residential rehab center is part of one of the most picturesque locations in North America.
Family Care & Visitation
Participants will come out of The Clearing as changed individuals. We invite family and friends to attend a Family Workshop during the final three days of our residential rehab program in order to facilitate reintegration and understanding of the Participant's growth.
Sunday afternoons provide an opportunity to be with family. A wide variety of great accommodations are available on San Juan Island.
After Care Program
Graduates will be armed with a full set of counseling skills and other techniques that will help them address future challenges. In addition, support continues after completion of the Program, including access to our staff, other graduates, online support, and continuing education workshops. We also contact graduates regularly as part of our after care protocol.
Email Privileges
We understand you have email relationships you desire to maintain over the course of the Program. Due to HIPAA regulations, we are unable to allow personal computers onsite. However, you're welcome to check out an Internet-enabled laptop to maintain contact with friends and family. Because this time is for your personal healing, we discourage working while you're in our residential rehab program.
Electronics Policy
Our emphasis is on creating a safe, loving and healing environment for all Participants and to create a space for them to focus on themselves. We also know how important it is to have access to personal devices such as cell phones and computers, so we have developed an electronics policy that balances these two objectives. We have designated periods when personal electronics are available. All electronics are logged in during intake, and Participants may continue to use them until around 7:00 p.m. on the date of check-in. The next time electronics will be made available to Participants is the following Thursday, four days after admission. From that point on, electronics are permitted every Tuesday, Thursday and Saturday for a one hour period between 4:00 p.m. and 6:00 p.m. and additionally on Sunday for a three hour period between 10:00 a.m. and 1:00 p.m. Headphones are required for listening to music.
Insurance
Insurance plans and coverage vary widely, and many insurance plans cover residential rehab programs. Some of The Clearing's Program fees may be covered by your insurance. At this time, we will be an "out-of-network" provider under your insurance plan. We look to you for full payment upfront, and then, based on your plan coverage, you may be eligible for reimbursement from your insurance company. For planning purposes and budgeting, we are currently developing a standard estimated "bill" with all the insurance codes on it so that you can work with your insurance provider to see roughly what they will reimburse. We will help in any way we can.
Thorough Screening Process
The Clearing carefully screens applicants for their ability to authentically participate in our Program. Our application helps us better understand the applicant and their needs.