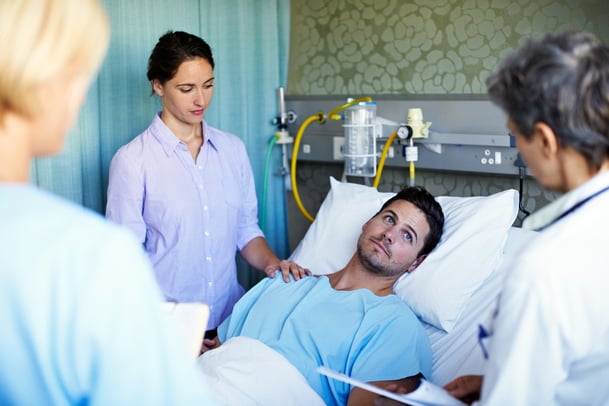 Looking for a medical detox center to help you get clean? In the US, more than 14,500 specialized drug treatment facilities provide counseling, behavioral therapy, medication, case management, and other types of services to persons with substance use disorders. Many of these offer medical detox services, specializing in safely cleansing your body of substances. We'll break down 19 top medical detox centers that do outstanding work.
How did it get this bad? How did you end up here?
Perhaps you're questioning whether you can live your life without drugs... or if you even deserve to live at all.
But from our perspective, having helped hundreds of good people break free from addiction, you're taking a giant step forward by seeking treatment.
There's absolutely nothing shameful about seeking help for addiction. It takes a lot of personal strength to admit that you need a hand getting sober.
After all, you're getting ready to face the mental and emotional pain that's been dogging your heels. You're preparing to change your life, and you should be proud of that!
Do I Need Medical Detox Before Treatment?
Based on our experience, about 50-75% of people suffering from alcohol, opiate, or other drug or substance addiction require a period to "clean up" – to physically and chemically remove these substances from the body prior to entering an addiction recovery program.
This process is commonly referred to as detoxification, detox, or medical detox.
It is highly recommended that medical detox treatment occurs under the supervision of trained medical personnel and appropriate facilities. With medically-supervised detox, physical withdrawal symptoms can be managed, the detoxification process can be accelerated, and medical care is provided by board-certified physicians and licensed medical staff.
This phase typically takes 3-10 days in an outpatient or inpatient setting.
You likely need a medical detox protocol if you've stopped drinking or using opiates or drugs and have severe physical symptoms including but not limited to:
Shakes

Cramps

Sensation of skin tightness/discomfort

Sweating
Nausea
Hot and/or cold flashes
When you stop drinking for a day or two, you experience severe physical discomfort
Detoxing from Alcohol
The risk of seizure or death is real. Alcohol is the trickiest substance to detox from, so you need medical supervision.
Detoxing from Opiates

Our experience is that you can't do a "cold turkey" (just stopping) opiate detox. There are real risks and there is significant physical discomfort. If you're trying this on your own, you need to taper over the course of weeks or months. Or you could opt for rapid opiate detox in 5-7 days with medical supervision.
The good news is that with today's technology and techniques, the process is much faster, safer, and comfortable than before.
Top 19 Medical Detox Centers
We created this list of our Top 19 Medical Detox Centers to help you steer toward safe, effective medical care. No matter where in the US you're coming from, we can help you to find a medical detox center that fits your needs.
1. The Coleman Institute - Richmond, VA, and 8 Other Locations
The Coleman Institute is based in Richmond, VA, and it offers outpatient detox for opiates and alcohol abuse, among others. The Coleman Institute is one of the most successful and innovative centers for addiction treatment in the country.
The Coleman Institute specializes in Accelerated Detox Technique (ADT). They provide the following substance detox treatments:
Heroin Detox

Prescription Drug Detox

Pain Medication Detox

Suboxone Detox

Methadone Detox

Alcohol Detox

Benzo Detox

Naltrexone Therapy
The Coleman Institute began and continues to operate in Richmond, VA under the leadership of founder Dr. Peter Coleman. He has developed affiliates with other licensed providers in 9 other locations across the US to administer his proven and highly effective medical detox protocol.
Coleman Addiction Expert

Dr. Peter Coleman, Founder and Medical Director

Dr. Coleman has dedicated his career to treating addiction patients. He is a native of New Zealand and came to the US in 1983 after medical school to work in a Virginia clinic. Beyond his medical experience, he understands first-hand the struggle to get clean and stay clean due to his own personal struggle with addiction. He's been sober since 1984 and he founded the Coleman Institute to help others and provide a safe, secure, process to wean people off alcohol or other substances.
The Coleman Institute lists a 96% satisfaction rate and 98% of their patients' complete detox successfully.
Contact Information
204 N. Hamilton Street, Suite
Richmond, VA 23221
804-201-9218

2. Gallus Detox Centers - Scottsdale, AZ and Houston, TX
Gallus Detox Centers are inpatient medical detox centers with locations in Prescott, AZ, Scottsdale, AZ, and Houston, TX. They utilize the innovative Gallus Detox Method developed by Dr. Patrick Gallus.
The Gallus Detox Method uses IV therapy in detox and this has proven to be one of the safest, most effective ways to immediately respond to any pain and/or discomfort associated with withdrawal symptoms. Trained professional staff are able to increase, decrease, or change medications at a moment's notice.
The method helps to create customized medical detox plans for alcoholism and most other addictive drugs.
Gallus Addiction Expert

Dr. Patrick Gallus
Dr. Gallus is a Board Certified Emergency Medicine Physician. He received his D.O. from the College of Osteopathic Medicine of the Pacific. He completed his emergency medicine residency at Texas A&M University.
Since moving to Prescott, AZ, Dr. Gallus has developed 2 emergency departments, seeing 72,000 patients a year with a staff of 18 board-certified physicians.
Dr. Gallus has over 15 years of experience treating drug and alcohol-related issues and also currently is Chief of Staff at Yavapai Regional Medical Center, overseeing 270 board-certified physicians.

Contact Information - Prescott
134 S Granite St.
Prescott, AZ 86303
(928) 323-3242

Contact Information - Scottsdale
4326 N 75th St
Scottsdale, AZ 85251
(480) 405-0477
Contact Information - Houston
16000 Southwest Fwy #100
Sugar Land, TX 77479
(281) 809-6466
3. Waismann Method Rapid Detox - Los Angeles, CA
Waismann Method Rapid Detox in Beverly Hills, CA is a hospital setting featuring rapid, anesthesia-assisted, medical opiate/opioid detoxification.
The Waismann Method has only one location. By focusing on one location, they're able to concentrate efforts on offering world-class service and maintain their position as one of the leading rapid opiate detox centers in the world. Waismann receives patients from all over the world.
They use a combination of antagonist medications to shorten the opiate withdrawal symptoms, while the patient comfortably sleeps. The method rids the body of harmful substances while clients rest without uncomfortable withdrawal symptoms.
Anesthesia Assisted Rapid Detox Method uses a combination of intravenous medications to shorten the duration of the acute withdrawal. This method usually occurs within a period of 30 to 90 minutes, whereas other traditional forms of opioid detox may last several days or weeks.
Waismann Addiction Experts

Dr. Michael Lowenstein, Founder and Medical Director
Dr. Lowenstein is nationally and internationally recognized as a respected leader in opiate treatment, pain management, and anesthesia. He is quadruple board certified and has almost 20 years of experience performing anesthesia-assisted rapid detox.


Clare Waismann, Founder
Clare Waismann, CATC (Certified Addiction Treatment Counselor)

Contact Information
311 N. Robertson Blvd #911
Beverly Hills, CA 90211
1-800-423-2482
4. Harborview Mental Health & Addiction Services - Seattle, WA
The Addictions Services at Harborview in Seattle, WA is a state-certified treatment unit and one of the many programs offered by the Department of Psychiatry and Behavioral Health Services as part of the University of Washington (UW) Medicine.

The Addictions Program provides integrated chemical dependency, mental health, and medical primary care treatment in an outpatient setting to assist people with chemical abuse and dependency problems. Treatment is also provided to individuals with co-occurring chemical dependency and mental health disorders (dual diagnosis), those in need of opiate replacement therapy, and patients with co-morbid medical issues.

Clients are treated for the physiological, psychological, emotional, and spiritual effects of their addictions. Program staff includes board-certified psychiatrists, psychiatric residents, primary care physicians, master's level therapists, and chemical dependency professionals.
Harborview Addiction Experts

Dr. Carolyn Brenner, MD
Dr. Brenner is a psychiatrist at Harborview Medical Center where she is the medical director of Harborview Mental Health and Addictions Services. Her clinical experience includes working with people with severe mental illnesses including schizophrenia.
She is also an assistant professor of psychiatry and behavioral sciences at the University of Washington School of Medicine and an associate director of the psychiatry residency program.


Dr. Joseph Merrill, MD, MPH
Dr. Merrill is a UW associate professor of medicine and is a certified expert in addiction medicine. He has clinical and research expertise in primary care, addiction medicine, pain medicine, and HIV medicine.
As a member of the UW School of Medicine Colleges Faculty, he is active in medical student education. He teaches students, residents, and practicing physicians in a wide variety of settings.


Dr. Richard Ries, MD
Dr. Ries is a professor and director of the addictions division at the University of Washington.


Dr. Christine Youdelis-Flore, MD
Dr. Yuodelis-Flores is a UW associate professor in the department of psychiatry and behavioral sciences. She is also Medical Director, Psychiatry for Madison Clinic.

Contact Information
401 Broadway, 1st Floor
Seattle, WA 98104
206-744-9657
5. Glatt Medical - Coleman Institute Near San Francisco, CA (Bay Area)

Glatt Medical in Burlingame, CA is an independently operated branch of The Coleman Institute, providing primary care and internal medicine along with addiction treatment and medical detoxification services. Glatt Medical addiction treatment services include detox for alcohol, opioids, sedatives, cocaine, amphetamines, and marijuana.
Glatt Medical Addiction Experts

Dr. Daniel Glatt, MD MPH
Dr. Glatt is board-certified in Internal Medicine and Addiction Medicine. He served 7 years on active duty as a physician in the US Navy. Dr. Glatt completed 2 years of specialty training in Addiction Medicine at the San Francisco VA Medical Center.
In addition to his medical degree from New York Medical College, he earned a masters in Public Health (MPH) from Harvard University. He is board certified by the American Board of Addiction Medicine.
Dr. Glatt, along with his father, Dr. William Glatt, has treated many patients under the Glatt Medical, LP banner. The senior Dr. Glass was the Medical Director of the Chemical Dependency Services at Mills-Peninsula Hospital. He has written and lectured on the Healing Powers of Love and Hugging and the Immune System.
To many colleagues and patients, the senior Dr. Glatt is known as "the Hugging Doctor."
Contact Information
1860 El Camino Real, Suite 301
Burlingame, CA 94010
415-944-4201
6. Swedish Ballard Addiction Recovery - Seattle, WA
Swedish Ballard Addiction Recovery in Seattle, WA provides evaluation and diagnosis, addiction treatment services including medical detoxification, and treatment for pregnant and postpartum women too.
The staff at Swedish Ballard Addiction Recovery is experienced in helping those who are impaired or negatively affected by substance abuse problems.
Detoxification services are carefully integrated with basic medical care and specialize in opiate or sedative/hypnotic medications and street drugs. The process varies from individual to individual, but for most patients, major withdrawal symptoms disappear within three to four days.
After detoxification, patients who need further inpatient treatment are referred to appropriate programs.
The team includes physicians who specialize in addiction medicine, specially trained nurses, and state-certified chemical dependency counselors. Psychiatrists are also available for consultations.
Dietitians, spiritual counselors, and occupational or recreational therapists may also work with patients in Addiction Recovery.
Swedish Ballard Addiction Recovery provides:
Evaluation and diagnosis
Medical detoxification
Treatment for pregnant and postpartum women
Swedish accepts most health insurance plans, including Medicare, and physician referrals are not necessary. Families and friends are encouraged to be involved in the recovery process.
Swedish Ballard Addiction Experts

Dr. Vania Rudof, MD, MPH


Dr. James S. Walsh, MD

Dr. Elizabeth Berrera, DO
Contact Information
5300 Tallman Ave. NW
Seattle, WA 98107-3932
206-782-2700
7. Central Texas Pain Center - Coleman Institute in Austin, TX
Central Texas Pain Center in Austin, TX is the independently operated Austin-area branch of The Coleman Institute, offering physician-directed pain management and rehabilitation.

Central Texas Pain Center is committed to treating patients suffering from any type of acute or chronic pain and restoring them to their previous level of functionality. Their physicians are trained to use medically proven and state of the art treatments for pain including medications, pain-relieving procedures, and rehabilitation.

Central Texas Pain Center Addiction Expert

Dr. Dan Frederick, MD
Dr. Frederick leads the medical detox practice at Central Texas Pain Center. He received his medical degree from the University of Texas. Further medical training included an anesthesiology residency at the University of Florida Shands Hospital and a pain management fellowship at Emory University.
Dr. Frederick is board certified in Anesthesiology and Pain Management by the American Society of Anesthesiologists.
Contact Information
4316 James Casey
Building B, Suite 200
Austin, TX 78745
512-271-9495
8. Providence Drug and Alcohol Addiction Treatment - Everett, WA
Providence Regional Medical Center Everett, colloquially known as "Prov Everett," is a full-service medical center and the flagship hospital of Providence Health & Services, the largest faith-based healthcare system in the Northwestern United States.
Providence Drug and Alcohol Addiction Treatment in Everett, WA provides addiction treatment and medical detox services.
The Providence program is hospital-based and comprised of inpatient, outpatient and day treatment programs. Providence Drug and Alcohol Addiction Treatment provides medical detoxification, if needed, as well as rehabilitative treatment for alcoholism and other drug dependencies.
Their staff includes a team of alcohol and drug addiction counselors, doctors, nurses, a nutritionist, and spiritual care providers. The medical director is an addiction medicine doctor who specializes in the treatment of alcoholism and other drug addictions.
We are licensed by the State of Washington and approved as a treatment facility by the Joint Commission on Accreditation of Health Organizations. Their process is based on the American Society of Addiction Medicine guidelines.
Contact Information
1700 13th Street
Everett, WA 98201
(425) 258-7390
9. Behavioral Health Care Associates - Coleman Institute near Chicago, IL
Behavioral Health Care Associates in Schaumburg, IL is an independently operated branch of The Coleman Institute, with outpatient services and inpatient services at four Chicago-area hospitals.
BHCA treats all forms of anxiety, mood, behavioral, and substance abuse disorders. They offer psychological and neuropsychological testing, medication, counseling, and therapy for all ranges of mental disorders, including attention deficit disorder (ADD), Alzheimer's, and other dementia. Full psychological evaluation and testing as well as laboratory testing are available. Treatment options for eating disorders, obsessive-compulsive disorder, school problems, alcohol and drug abuse, bipolar disorder, panic disorders, depression, personality disorders, sexual dysfunctions, and marital problems are available.
BHCA Addiction Expert

Dr. Blaise Wolfrum, MD
BHCA's medical detox practice is led by Dr. Blaise Wolfrum. Dr. Wolfrum completed his medical degree at Loyola University with further study at the University of Oklahoma. He is board-certified in psychiatry and addictions by the American Board of Psychiatry and Neurology and is a fellow of the American Psychiatric Association.
Contact Information
1375 E. Schaumburg Rd., Ste. 230
Schaumburg, IL 60194
(847) 895-4540
10. Fairfax Behavioral Health - Kirkland, WA
Fairfax Behavioral Health in Kirkland, WA (with an alternate location in Everett, WA) is an inpatient psychiatric hospital with a commitment to excellence.
Fairfax Behavioral Health operates a 157-bed, standalone psychiatric hospital composed of six units providing specialized treatment for mental health and dual diagnosis / co-occurring disorders (concurrent mental illness and substance abuse issues), as well as detoxification services for both adolescents and adults.
They offer multiple therapeutic groups on a daily basis, and all of their programs are designed for individuals with high levels of dysfunction and severe psychiatric challenges.
Fairfax Addiction Expert

Jessica Arens, ARNP
Service Director, Dual Diagnosis/Detox Unit
Contact Information
10200 NE 132nd St.
Kirkland, WA 98034
425-284-8300
11. Compassionate Care Centers - Coleman Institute Near Phoenix, AZ
Compassionate Care Centers, LLC in Glendale, AZ is an independently operated branch of The Coleman Institute. The clinic is run by Dr. Rick Sloan, a general practitioner and addiction specialist.

Compassionate Care Addiction Expert

Dr. Rick Sloan, MD
Dr. Sloan graduated from the University of Colorado School of Medicine. In the fall of 2010, Rick established We Care Urgent Care. Since its opening, thousands of patients have received care at We Care Urgent Care for their immediate health concerns.
It also became apparent that many of his patients had more long-term health concerns. In response, Dr. Sloan opened Compassionate Care Centers to offer care for those patients, including Coleman's Accelerated Detox Technique (ADT) and other medically-supervised detox protocols.
Dr. Sloan is certified by the American Board of Medical Specialties and serves as a diplomate on the ABFM Board. He is also a board-certified Medical Review Officer.
Contact Information
4494 W Peoria Ave #115A
Glendale, AZ 85302
(623) 878-5800
12. Royal Life Centers - Washington and Florida
Royal Life Centers provide drug & alcohol treatment services including:
medical detox

residential treatment

outpatient treatment

extended care, and

sober living programs
Royal Life Centers operate under various banners and names:
Their holistic program is designed around the idea that the detox process impacts individuals at the mental and emotional levels as well as the physical level. Their well-trained staff offers guest-centered care and personalized detox programs that include relational support.
Royal Life Centers have developed an effective and systematic approach to the detox and stabilization process, and have been a leader in the drug detox and addiction treatment field. Their Detox treatment center is staffed by a varied group of medical professionals, certified addiction therapists, psychiatrists, and drug treatment team members.
The medical detox at Royal Life Centers are closed facilities that enable patients to recover in a safe, secure, and supervised environment. Not having visitors during your stay both allows you to focus on getting better and treatment, and they've found these increases guest success. They have medical staff and nurses overseeing the medical aspects of the program while certified behavioral health technicians are monitoring and assisting you throughout your entire stay.
Contact Information - The Haven
8649 Martin Way East
Lacey, WA 98516
877-206-4166
Contact Information - Spokane Heights Detox
524 E Francis Ave
Spokane, WA 99208
(509) 596-2270
Contact Information - Royal Life Center - West Palm Beach
1200 Surf Road
West Palm Beach, FL 33404
877-732-6837
13. Providence Substance Abuse - Portland, OR
Providence Substance Abuse is located in Portland, OR (with an alternate location in Hood River, OR) and provides supervised medical detoxification and stabilization services, and customized, evidence-based intensive outpatient and outpatient treatment for adults with alcoholism and drug addiction.
The Providence inpatient residential addiction treatment program combines evidence-based medical care with therapy based on motivational interviewing.
The first step is a medically supervised (monitored) detox from drugs and alcohol, combined with brief stabilization addiction treatment. The average length of stay is 5 days of 24-hour medically monitored care including detoxification and stabilization, group treatment, family treatment groups, and case management.
Providence Substance Abuse Addiction Experts

Dr. Palaniappan Chidambaram, MD
Dr. Chidambaram is based in Portland, OR. He has 19 years of experience. His specialties include Addiction Medicine and Internal Medicine.


Deb Lada, CADC II
Deb is a certified Clinical Alcohol and Drug Counselor (CADC) located in Hood River, OR.
Contact Information
Providence Portland Medical Center
5228 NE Hoyt St., Building B
Portland, OR 97213
503-574-9200
14. Keating Family Medicine - Coleman Institute near Atlanta, GA

Keating Family Medicine in Dawsonville, GA is the independently operated Atlanta-area branch of The Coleman Institute.
Keating Family Medicine Addiction Expert

Dr. William Keating
Dr. Keating is a board-certified family practitioner and addiction specialist. He has built an environment of camaraderie, trust, peace, tranquility, and teamwork.
He sees all age groups from childhood to the geriatric population for primary care purposes. Dr. Keating is also board certified in addiction medicine.
Contact Information
1080 Lumpkin Camp Ground Rd S,
Dawsonville, GA 30534
(706) 265-4100
15. Cascade Behavioral Health - Tukwila, WA
Cascade Behavioral Health in Tukwila, WA (near Seattle) delivers inpatient, hospital-based detox with careful, qualified physician supervision. They offer rolling, 24 hours a day admission, so emergency cases are welcomed.
Cascade's seamless continuum of care provides medically-based treatment throughout every stage of recovery — from acute detoxification to outpatient counseling. There is a broad range of options and the program can be customized for each patient to meet his or her individual needs.
Cascade Behavioral provides:

Alcohol detox

Cocaine detox

Heroin detox

Meth detox

Prescription Drug Detox

Barbiturate Detox
Cascade Behavioral Addiction Expert

Dr. Gregory Rudolf, MD
Dr. Rudolf is board certified in Addiction Medicine and Family Practice — one of only a handful of medical addictionologist in the state of Washington. Dr. Rudolf has built a team that includes certified chemical dependency professionals, physicians, psychiatrists, and nurses.

Contact Information
12844 Military Rd S
Tukwila, WA 98168
(206) 745-4473
16. Active Physical Medicine and Pain Center - Coleman Institute in Barboursville, WV
Active Physical Medicine and Pain Center in Barboursville, WV is the independently operated West Virginia branch of The Coleman Institute, providing naltrexone implant therapy, pain management, and related services.
Dr. Jimmy Adams and his staff are dedicated to providing compassionate, quality care to individuals with acute or chronic, long-term painful conditions as well as those with physical conditions and opiate and alcohol dependency.
Contact Information
6007 US Route 60 E, Suite 304
Barboursville, WV 25504
(304) 736-0825
17. Capo Canyon Recovery - Laguna Niguel, CA
Capo Canyon Recovery is a small boutique medical detox facility serving Orange County, CA. Capo Canyon provides safe detoxification in a comfortable, licensed, residential environment.
Capo Canyon Recovery combines Dr. Karimkhani's detox assessments and medication protocols with holistic massage, acupuncture, and meditation to ensure a well-rounded detoxification process. Capo Canyon was also the first in California to offer licensed Incidental Medical Services, which allows our physician and her staff to be on-site and oversee your care.
Capo Canyon is not a hospital but has experienced 24/7 staff, including nurses and physicians, monitoring your care to ensure that you take a gentle first step into treatment.
Dr. Valeh Karimkhani is Capo Canyon's medical director and her staff has successfully detoxed thousands of clients over the years and will immediately recognize your unique medical and detox needs. Capo only takes 6 clients at any time so you will get the care and attention you deserve.
Capo Canyon Addiction Experts

Dr. Valeh Karimkhani, D.O.
Dr. Karimkhani is a psychiatrist, dually board certified in Psychiatry and Addiction Medicine. She is currently the Medical Director for Capo Canyon Recovery and oversees detoxification services for clients.
She has extensive experience in emergency psychiatry, dual diagnosis, trauma, substance abuse, and adolescent psychiatry. Dr. Karimkhani is also a Major in the Army Reserves and has completed three tours of duty in the Middle East.


Krishna Jessick, Detox Director, and Counselor
Krishna is a Certified Addiction Treatment Counselor and an expert at residential detoxification. She graduated from Saddleback College with a certificate in Drug & Alcohol Studies.
Over the last 20 years, she has owned and managed numerous detox facilities, residential facilities, and outpatient programs and has remained a strong advocate for holistic services in treatment.
Contact Information
Laguna Niguel, CA
800-804-8714
18. Northshore Family Practice - Coleman Institute near Seattle, WA
Northshore Family Practice in Bothell, WA is a family medicine and primary care practice that also specializes in addiction medical detox services.
Northshore Family Practice Addiction Expert

Dr. Barbara S Mendrey, MD
Dr. Mendrey is a Family Practice specialist in Bothell, Washington. She graduated from Oregon Health Sciences University School Of Medicine and has over 40 years of diverse experience. She is affiliated with many hospitals including Evergreen Hospital Medical Center.
Dr. Medrey is trained in Coleman's Accelerated Detox Technique (ADT) and other medically-supervised detox protocols.
Contact Information
12900 NE 180th Street, Suite 100
Bothell, WA 98011-2101
206-455-9186
19. Bay Center for Pain Management - Coleman Institute near Tampa, FL
Bay Center for Pain Management in Largo, FL is a family practice and pain management clinic and is an independently operated branch of The Coleman Institute.
The Bay Center for Pain Management is run by Dr. Imtiaz Hossain.
Bay Center Addiction Expert

Dr. Imtiaz Hossain
Dr. Hossain was born in Bangladesh and moved to the United States 26 years ago. He completed his medical degree at the University of Dhaka, Bangladesh. Further medical training includes residencies through the Albert Einstein College of Medicine in New York and the University of Toronto, Canada.
He is board-certified in Anesthesiology and Pain Management and trained in Coleman's Accelerated Detox Technique (ADT) and other medically-supervised detox protocols.
Contact Information
101 Clearwater Largo Rd North
Largo, FL 33770
813-321-3563
Medical Detox Alone Isn't Enough
Since most people with a substance abuse issue have a dual diagnosis - that is, addiction along with a mental health concern such as depression and anxiety - medical detox isn't enough to end most addictions.
Detox is a great first step, but once it's done, you need to address the underlying mental and emotional issues that are driving your drug use.
What's After Medical Detox: Addiction Recovery Program
We hope our list of medical detox centers is useful in your research, but detox is just the beginning.
If you would like to learn more about how to select the right addiction treatment center for you, please download our free eBook: