Free eBook: The Ultimate Guide to Choosing a Residential (Inpatient) Addiction Treatment Program
---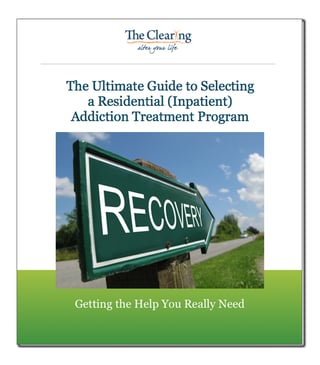 No information required.
About this eBook
Many of the people who contact us confidentially ask, "How do I know if I need residential rehab? What should I look for in an Inpatient addiction program?" This eBook answer those questions and many more to give you everything you need to make an informed decision about what type of program may be best for you.
What you'll learn:
The underlying causes of addiction and how that impacts treatment approach
Types of Treatment Modalities available, including alternatives to the 12 Steps
The common pitfalls of residential treatment and how to avoid them
What makes an addiction treatment program effective and how to get the most from it
Typical cost ranges and how to pay for the treatment you need
---
Looking for additional information and resources?
We write and publish extensively on the topics of addiction treatment, behavioral health, spiritual well-being, and more.

Sign up to have our weekly updates and newsletter conveniently delivered to your inbox.

Note: we will NEVER share your personal information, period.