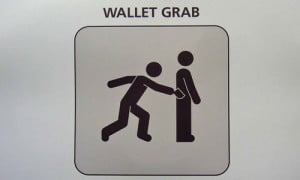 Trying to avoid getting ripped off in your residential treatment selection and experience? I can share, from personal experience, how easy it is to spend over $60,000 on residential treatment and find myself exactly where I started before I began. There is nothing more frustrating than having blown through my family's finances and two months of my life and having nothing to show for it, yet this was my experience.
Here are my mistakes. Make these mistakes and you too will get ripped off in residential treatment.
The Top 5 Ways to Get Ripped Off in Residential Treatment
Not doing the research – Big mistake. Huge mistake. I found out later that I went to the residential treatment center that had an open bed at that moment, not one which was considered and vetted as one that could help me.
Turn going to residential treatment into a 'crisis' – It isn't. Consider this: you've had your issues for years (alcohol abuse, substance abuse, other addictions, mood disorder, etc.), so where's the fire? You don't have to make a decision in 24 hours. This is an irrational and arbitrary condition the industry has manufactured to get you in the door. The fact is you've got plenty of time to make a careful, considered and informed residential treatment decision and your recovery depends on it. So slow down, do the research and find a residential treatment program that's right for you.
Not asking the hard questions – What do you need to know about the residential treatment center you will attend? Here are some questions you'll want answered.

What is the program? – is it a 12 Steps program, a 12 Steps alternative, or do they even have a program? 12 Steps is the program developed by Alcoholics Anonymous (AA) more than 70 years ago, with a track record of some success but also many failures.
How is the program formatted? – At the vast majority of residential treatment centers, the population is constantly turning over, people enter and exit the program every day. This causes daily interruptions and an inconsistency which is hard to overcome.
How many hours of individual therapy will I receive?
How many hours of group therapy will I receive?
What other instruction or training will I receive?
What can I expect to have accomplished when I am complete? Make sure you choose a residential treatment program that offers you a strong foundation of skills you can use going forward.
What is expected of me?
Will I have to acknowledge a Higher Power, make negative affirmations, have a sponsor or make amends? This is the case with the 12 Steps approach.
How much does it cost? Find a residential treatment program that gives you a clear, concise answer to this question. Make sure you have an unchanging number up front.
Related to residential treatment costs, are there extra charges? Charges for things like outside activities are more common than you think.
Is yelling, shame, embarrassment or guilt part of the therapy?

Get confused about programs and luxury – I did. I selected a luxury residential treatment center which had no program whatsoever. It was all outsourced to the local AA chapter which follows the 12 Steps.
Go through the program with people who aren't trying to get well – Well, that says it all. Believe it or not, there are career residential treatment goers and many people who wind up in residential treatment for the wrong reasons - primarily family or employment pressure on those who simply were not ready or committed. It's virtually impossible to do significant work with people who treat treatment like a vacation.
These are just a few of the ways I felt ripped off in my residential treatment experience.
How Not to Get Ripped Off in Residential Treatment
What you want and need is quite simple. A program. A thoughtful, challenging, in-depth program designed to give you the skills to heal the underlying core issues which are at the root of the addictive behaviors and other behaviors which cause you problems. A program diligently designed and implemented to give you the best experience possible. A program which gives you the greatest possibility of overcoming the issues causing disturbance in your life.
We offer you exactly that. A serious program for motivated people. Our commitment to you is to have prepared for you a program of excellence that, if you authentically and willingly participate, will alter your life.
Call us and ask us the hard questions. We're here to help.
Image courtesy of bills.com
About The Clearing
The Clearing is a residential treatment center located on beautiful San Juan Island, Washington. We created The Clearing in response to the pervasiveness of treatment centers that focus more on luxury than modern, evidence-based therapy.

Our approach is based on healing the underlying core issues that cause addiction. If you'd like to learn more, contact us, or download our free eBook: