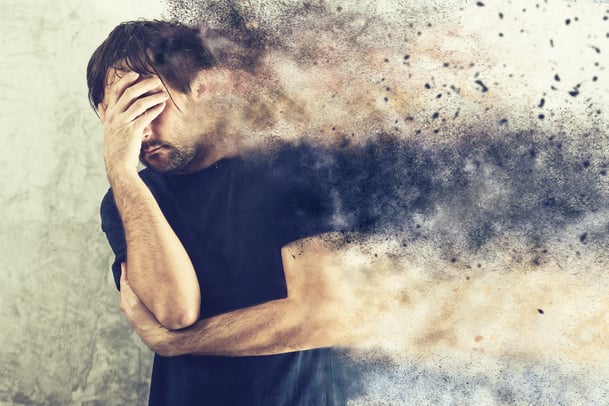 Despite the increasing prevalence of both outpatient and inpatient addiction treatment programs — over 14,500 in the United States alone — more people than ever are dying from drug overdoses. According to the Center for Disease Control (CDC), opioid overdoses were involved in 46,802 deaths in 2018, the last year of data available.
Part of the problem is that most addiction treatment programs have a very low success rate. Some patients go through treatment and remain sober for the rest of their lives, but many more fail to receive the holistic care they need and return to their drug of choice — or turn to a new addiction.
Success Rates for Standard Drug & Alcohol Rehabilitation Centers
There are several common types of drug and alcohol treatment programs in the United States:
Luxury Rehabilitation Centers
For patients who can afford it, there are many luxury rehabilitation centers in places like Malibu that offer treatment in a vacation-like facility. Rehab costs at these facilities are typically $65,000 and up per month.
At these locations, you may have access to amenities like horseback riding, scuba diving lessons, spa facilities, and gourmet meals provided by a personal chef. The rehabilitation center provides a resort-like atmosphere, typically near a beach or in a location with stunning views of nature.
Unfortunately, many luxury rehab centers spend patients' money on high-end amenities rather than intensive rehabilitation work. You may not receive any more counseling than you would in a standard facility, or you may find that the difficult emotional work required for healing is optional (and all too easy to avoid!)
If you are considering a luxury treatment center, you may want to ask about the program's counseling hours and success rates, as well as how they define success. Some programs do not track these statistics, only track sobriety for patients who exited the program within the past month or year, or define success as slightly longer periods of time between relapse episodes — not quite the long-term version of success you are probably hoping for.
Basic Inpatient and Residential Rehab Treatment
There are many lower-cost, often publicly funded rehabilitation centers for patients throughout the United States for under $20,000. These rehabs often focus on education and group work rather than counseling or recreation.
At a lower-end rehab, you will typically be required to share a bedroom and bathroom with several other patients who may come and go throughout your stay. You are also more likely to find staff with less experience and training than at mid-to-high-range facilities.
In short-term inpatient programs, patients receive treatment for up to a few weeks with medication and at least some counseling, although it is often no more than a few hours. In long-term programs, patients stay in a community for several months and work primarily with peer counselors. There may or may not be any meaningful aftercare or mental health assistance for patients with a dual diagnosis.
Medical Detox
In medical detox, patients are eased into the transition from using through medications and sometimes psychosocial treatments over several days. There is physical support so that patients can avoid falling ill or returning to substance use.
Medical detox is especially helpful for patients that may experience agitation, seizures, hallucinations, and other severe symptoms. After medical detox ends, patients often move into an inpatient or outpatient rehabilitation program to continue their care.
According to American Addiction Centers, medical detox costs an average of $600-850 per day out of pocket, similar to inpatient rehab.
Outpatient Drug-Free Programs
Patients continue to live in their homes as they receive counseling, often for several months. There may be several hours of therapy each week, but there are fewer measures in place to guard against relapse than you would find in inpatient treatment. According to the American Addiction Centers, intensive outpatient treatment costs $250-350 per day out of pocket.
Average Rehab Success Rates for Specific Addictions
Many of the rehabilitation treatments we discuss below have extremely low average success rates. However, don't give up hope! We will discuss some non-average rehab options that have significantly higher success rates later on, so keep reading.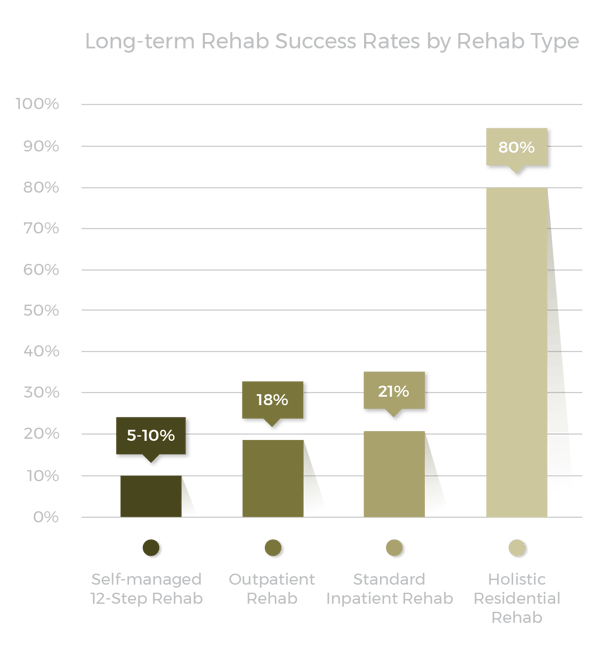 Alcohol-Focused Addiction Treatment
Most alcohol addiction treatment programs (and many programs designed for other addictions) are based on the 12 Steps of Alcoholics Anonymous. Some programs also include medications like acamprosate, which helps reduce the desire to drink.
While 12 Step programs have helped many people, for every person who successfully achieves sobriety, there are many more who do not. According to Dr. Lance Dodes, the author of The Sober Truth: Debunking the Bad Science Behind 12-Step Programs and the Rehab Industry, full addiction recovery rates for 12 Step groups may be as low as 5-10%.
The most effective alcohol addiction treatment programs use intensive therapy and counseling to heal the patient's underlying emotional issues and focus on treating dual diagnosis mental health concerns.
Inpatient programs also tend to have higher success rates, especially for patients with co-occurring mental illnesses, although most programs are still not truly successful for the majority of patients.
Heroin and Opioid Addiction Treatment
Programs that are specifically geared toward treating heroin and opioid addictions often use drugs like Buprenorphine, Naltrexone, or Methadone to help patients make it through the withdrawal phase. Buprenorphine helps combat drug cravings during withdrawal, while Naltrexone and methadone are opioid antagonists.
The more successful treatment programs for opioid addiction typically combine detoxification and medications with counseling. Unfortunately, only 36% of opioid treatment facilities offer any medication treatment specifically for opioid use. Additionally, many programs still only offer the minimum legally required counseling hours.
As a result, 91% of heroin rehab participants who are discharged after successfully completing an opioid detox program report relapsing. 59% relapse within just a week of discharge.
Cocaine and Crack Addiction Treatment
Studies show that about 25% of people with a cocaine addiction report relapsing after completing a standard rehabilitation program.
Treatment at a standard facility often includes a combination of contingency management, motivational enhancement, and cognitive behavior therapy to fight the addiction itself. However, there may be minimal counseling time devoted to other mental health concerns, which can make programs less effective for dual diagnosis patients.
Other Drug Rehab Effectiveness Statistics
Most patients in addiction treatment programs do not reach long-term sobriety. Out of all of these treatment methods, inpatient and residential treatment has the highest success rate for drug addictions in general. Even with these programs, only 21% of patients remain clean or sober after five years.
The outcomes are particularly dismal for detox and outpatient drug-free treatment programs, with only 17% of detox patients and 18% of outpatient drug-free treatment patients remaining sober after five years.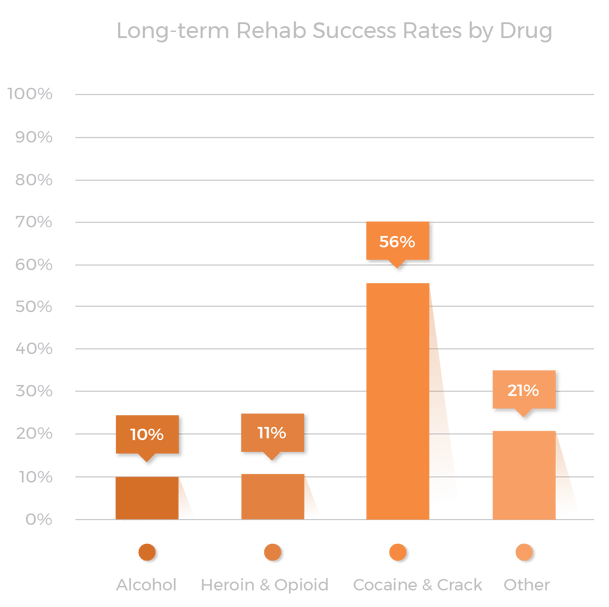 Why the low alcohol rehab success rates? Why the low drug rehab success rates? What's going on?
Here are six reasons behind the low drug and alcohol rehab success rates that are so common today. In the process, we'll also discuss what programs can do to help people recover and how to find a program that actually works.
Reason #1: Absence of Dual Diagnosis Residential Treatment
Until recently, mental health conditions and addiction were considered separate.
Now, however, we know that a very large percentage of people dealing with alcohol or drug addiction have a dual diagnosis: a substance abuse issue coupled with a mental health condition, such as depression or anxiety.
For example, according to the Substance Abuse and Mental Health Services Administration (SAMHSA), of the 20.2 million people with a substance use disorder in the United States, at least 7.9 million (39%) had a mental illness of some kind.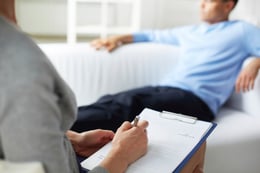 Many addiction recovery professionals believe that the actual dual diagnosis rate is even higher, as mental health concerns are often under reported.
Many alcohol and drug rehabs now list dual diagnosis treatment as part of their offerings. But if you look closely, you may notice a disconnect between the services listed and the supports provided.
Since there's no standard definition of what constitutes "rehab," the quality of inpatient alcohol treatment centers varies tremendously.
One major issue is the number of professional counseling hours provided.
Some inpatient addiction treatment programs offer the minimum number of counseling hours required by the state in which they operate.
That can be as little as 1 hour per week, or approximately 4 total hours in 28 days.
Make sure you check on this as you go through your research. By way of comparison, we offer 120+ hours of licensed professional counseling for each participant over the course of 28 days.
Reason #2: Shame and Guilt
When people first come to an inpatient addiction treatment center, chances are they're having a hard time. In many cases they've just finished detoxing from alcohol or drugs, so they're still dealing with physical issues as their emotional issues start to rise to the surface.
Many people enter alcohol and drug addiction treatment feeling frightened and unsure, but also willing to take a shot at changing their lives. But what happens next?
Too often, they get a barrage of shame and guilt messages.
Program leaders tell them that they are broken, flawed, damaged, or deficient in any number of ways.
They're told that no matter what they do, they'll always be addicts.
Encouraging?
Inspiring?

Not so much.
So check this out as you conduct your addiction treatment research.
By contrast, our Program is based around the belief that you are powerful and capable of healing. Our staff is here to support you, because you already possess all the tools that you need to recover. You are your own best teacher … no shame and guilt necessary!
Reason #3: Focus Solely on Physical Coping Strategies
Many inpatient addiction recovery centers address only physical-level behavioral changes. These are what we can do to address physical cravings for drugs or alcohol, such as aversion therapy.
While these certainly have their place, they're not the whole picture.
In order for you to heal thoroughly, you need to address and heal on the physical, mental, emotional, and spiritual levels. Every person has these 4 levels of self.
In particular, we've noticed that many addiction recovery centers avoid working with emotional issues.
This is ironic, because often when people use the term "mental health issues," they're really referring to emotional health issues.
"We try to think our way out of emotional problems and wonder why that doesn't work out! A lot of addiction problems come into play when people say, 'I can't think my way out of this problem. I don't know how to address it on the emotional level, so let me numb out to it.'" - Joe Koelzer, co-founder, The Clearing
The good news is that when you learn proven psychological techniques -such as Gestalt Therapy - to heal at the emotional level, you can make dramatic progress.
Reason #4: Lax Screening Process
There are plenty of addiction recovery centers out there that accept people with no other criteria than "they can pay."
This results in addiction recovery groups with participants that are all over the map.
Some people really want to recover and do the work …
...but others enrolled under duress or coercion.
A single person who doesn't want to be in recovery can prevent an entire group from doing their own work.
If you've ever been part of a team in which one person didn't make an effort (or actively resisted other's efforts), then you know how it goes.
Every individual's motivation matters.
Plus, many addiction recovery centers admit and discharge people daily. This creates a highly distracting and disjointed experience for everyone else going through the addiction recovery program.
So be sure to check this piece out as you do your research.
Some addiction recovery programs avoid these pitfalls. For example, The Clearing has a cohort-based approach, which means that everyone moves through together. Everyone starts and ends at the same time, which facilitates unified, positive progress. Our strict admission criteria also means that we turn away more than 50% of the people who request admission.
Reason #5: Under-Qualified Addiction Treatment Staff
Would you feel motivated to dive into vulnerable emotional work in a place where the staff wasn't supportive?
No way!
But sadly, unsupportive or under-qualified staffers are common in most addiction recovery centers.
When people are paying thousands of dollars a day for addiction treatment, they deserve much better than that.
They deserve supportive, caring, highly qualified staff members who are wholly invested in their progress.
Reason #6: Little to No Aftercare
Imagine going through a 28-day inpatient addiction treatment program and feeling as though you've made strides toward living drug-free … only to return home with no consistent support and no follow-up care.
Without a strong support system in place, you give into familiar patterns and give up on sobriety.
Sadly, that's the reality for many people who go through mainstream addiction recovery programs.
Without the structure of their inpatient addiction treatment program, they lose sight of the skills they learned and return to their old habits.
So make sure you check out the Aftercare program that follows the inpatient stay. The Clearing provides long-term aftercare to everyone who graduates. We have a consistent schedule of support calls and accountability check-ins to ensure that you get the help you need to create a healthy life for yourself.
Summary of Why Drug and Alcohol Rehab Success Rates are So Low
Drug and alcohol rehab rates for popular 12 Step groups such as AA may be as low as 5-10%. We believe these are so low due to:
Absence of dual diagnosis treatment

Shame and guilt

Focus only on physical coping strategies

Lax screening process

Under-qualified addiction treatment staff

Poor Aftercare
What Effective Drug and Alcohol Treatment Looks Like
Effective treatment for drug and alcohol addiction is about more than just getting clean. It's also about healing the underlying emotional issues that led to addiction in the first place and living a healthier life.
Most addiction treatments do not offer sufficient counseling hours, qualified staff, after care, or a motivated cohort of peers seeking treatment. By contrast, a successful program typically includes:
A focus on dual diagnosis and treating underlying emotional issues
Qualified staff, including certified, licensed personnel
Over 100 hours of treatment with a licensed counselor, including both group treatment and individual treatment to address each individual's specific issues
Access to medications as needed
Residential treatment at a facility that screens patients to ensure everyone is personally motivated to heal
Teaching sessions that focus on the skills needed to healthily cope with social situations, cravings, difficult emotions, and other challenges that previously triggered using
A strong support system to help you after treatment, including both counselors or therapists and sober friends, partners, and/or family members.
When treatment is truly successful, the person's life is completely different. They have better relationships, improved performance in their employment or education, healthy hobbies, fewer legal issues, better physical and mental health, and a stronger sense of meaning and joy in life.
Sobriety and resistance to relapse are just part of the change; you can see the evidence of healing throughout the person's life.
An Addiction Recovery Program That's Different
If you're looking for an addiction recovery program that provides integrated dual diagnosis treatment in a supportive, positive environment, consider The Clearing.
We've purposefully created a unique Program that's unlike most other inpatient addiction treatment centers out there … and our Participants are seeing great results.
At present, more than 80% of our graduates are living their life free of addiction (contact us to learn about this remarkable statistic).
If you're ready to address your core issues, contact us today, or download our free eBook, The Ultimate Guide to Choosing a Residential Addiction Treatment Program: