PTSD Treatment Program
The experience of a traumatic event causes devastation in a person's life. Witnessing or living through trauma can negatively affect them in many ways. A traumatic event can put them in a frame of mind that's hard to overcome without a PTSD treatment program.
PTSD, also known as post-traumatic stress disorder, is a mental health condition triggered by traumatic events that might include things as: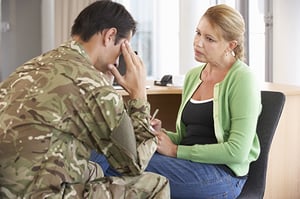 Physical, Mental, Emotional and/or Sexual Abuse
Physical Assault
Military deployment
Loss of Loved One, Safety or Security
Childhood Trauma
In PTSD treatment, the trauma doesn't have to meet a third party definition of trauma to be traumatic. It was traumatic to them, this is all that matters.
Effective PTSD treatment is critical for reducing symptoms and improving their well-being.
Reasons to Consider a PTSD Treatment Program
Living through a traumatic experience makes it difficult for a person to resume normal functioning. Most likely, they have developed post-traumatic stress disorder. Not receiving treatment makes it hard for a person to work through the issues.
PTSD treatment helps the person overcome their stress reaction to trauma. They may develop other disorders from their experience. Turning to drugs or alcohol is not uncommon for a person trying to alleviate their distress.
They may quickly become trapped in the cycle of addiction because substances numb their emotional pain. Getting PTSD treatment can help alleviate these conditions.
Benefits of a Residential PTSD Treatment Program
Ordinary events can trigger monumental disturbances for the person living with PTSD, transporting them back to the state of their trauma.
Flashbacks often happen when the person is sleeping, but can occur at any time. Dealing with something that reminds them of the traumatic event causes physical reactions or even severe emotional distress.
Several forms of PTSD treatment exist to help a person regain a sense of control. One of the most effective is a residential rehab program where the traumatic events can be healed in an immersive 24/7 environment. In addition, PTSD treatment in a residential setting, gives the person a place to recover in a safe environment separate from life's every day stresses.
Get the PTSD Treatment You Need Today
The Clearing recognizes how trauma can impact your life. Our facility offers a safe, loving and healing place to work through the traumatic events. We can help you with a range of issues that tend to be associated with PTSD including:
Relationship problems
Self-harming behavior
Shame and/or guilt
Suicidal ideations
Take the courageous step to end your suffering today. Call us today to learn more about what we treat at The Clearing.
Questions? We're Here to Help
Selecting the right treatment option can be a complicated decision.
We're here to help