You or Someone You Love Has an Alcohol Addiction: Now What?
Alcohol addiction can be overwhelming. Even after you or someone you love identifies a possible problem, it can be difficult to surrender or reach out for help. If you or someone you care about struggles with alcoholism, effective and compassionate treatment at The Clearing in San Juan, Island, WA, can help.
Recognize the Addiction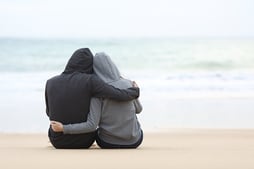 It can be challenging to verbally name "addiction". If you are personally struggling, it is critical to acknowledge that your drinking is more than social or recreational. Admitting that you have an alcohol addiction can help you move forward.
However, it can be harder to help loved ones recognize their own addiction. It's normal for individuals to be in denial about their drinking and their health. Even with your loved ones' best interests in mind, confrontation may not always be helpful. In fact, it can do more harm than good.
With that being said, an intervention could be a step in the right direction. Once loved ones can see their addiction for what it really is, they can take the next step. This is not the time to mince words or be overly cautious: calling an addiction an addiction is key. The Clearing can help set up an effective, therapist-led intervention to guide individuals in the right direction.
Decide to Seek Out Professional Help
Once alcoholism has been acknowledged, it's time to seek help. Remember that while support can come from friends and family, medical care can only come from professionals.
Making the decision to seek out professional help can be tricky. So many individuals want to try to detox or recover entirely on their own. However, not only is that ill-advised, it's often dangerous.
There are a number of health risks that can develop if patients don't receive help during recovery. During withdrawal, in particular, severe issues can crop up rapidly. The only way to stay safe is to be in a medically-supervised environment throughout the process.
In addition, solo recovery simply isn't as effective. The ultimate goal should always be getting sober and then learning how to stay sober. Those therapies and techniques just aren't available at home. If you are serious about sobriety for yourself or someone you love, then formal, professional addiction treatment is the only viable option.
Find a Quality Treatment Center for Alcohol Addiction
Even after deciding on professional treatment, it can be tough to narrow down the options and pick one treatment center. Not all treatment centers have the same programs or the same methods, so making the right choice is critical.
The Clearing offers an intensive residential rehab program to help individuals effectively combat alcohol abuse and addiction. Rather than settling for a part-time outpatient program, seek out programs where patients can have 24/7 access to accommodation, support and therapy.
Using Spiritual Psychology as a basis for our treatment programs, we help individuals identify the underlying causes of their addiction. Some of the characteristics of our program include:
Thorough screening and intake evaluation

Extensive individual counseling

Group therapy

Life skills training

Dual diagnosis therapy
Choosing treatment on our secluded island location removes outside temptation.
Commit to Ongoing Care for Lasting Recovery
Just as important as what goes on during treatment is what goes on afterward. Many patients with alcohol addiction will face the challenge of relapse. That's why after care is so critical to the process.
At The Clearing, our aftercare program helps patients stay on track. There are many different elements to after care. It can include work done in treatment sessions. This might mean learning coping mechanisms or continuing to address underlying root issues. Online support and continuing education workshops can go a long way in maintaining sobriety.