Why Inpatient Treatment Is More Effective Than Outpatient

As a complex mental disease, addiction affects different areas of the brain. These include the areas that control behavior, motivation, and learning. The effects can cause negative behavior that interferes with normal family, work and social aspects of life. Experts say that inpatient treatment is the best option, but many people don't understand why.
What NIDA Research Reveals About Inpatient Treatment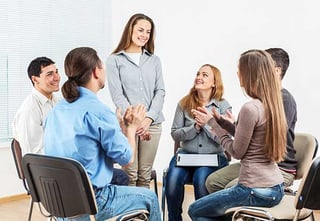 Similar to other chronic illnesses, addiction treatment never ends because there's no cure. Along with stopping drug use, inpatient treatment aims to help people become functioning members of society again. The NIDA reports that most people whow remain in treatment can achieve this goal. They're more likely to refrain from drug use and stop criminal activity. Patients who get residential treatment can also improve their social, occupational and mental function.
Despite the research findings, patient attitude often dictates the effectiveness of addiction treatment programs. The nature and extent of their addiction also play a major role in how long they need rehab. Other factors include the services offered and the quality of those services.
What Makes Inpatient Treatment So Much Better?
Inpatient treatment is generally more effective than outpatient treatment because of the structure. Away from home and under 24/7 supervision, it gives patients more time to focus on treatment and therapists more time to address the cause of addiction. Patients also have ample time to learn skills that improve how they function in society, which reduces the risk for relapse.
Such programs remove people with addiction away from temptation. In most cases, they spend a lot of time with others who abuse drugs or have addiction. Entering inpatient treatment prevents those active addiction from influencing them to use drugs as they're attempting recovery. It also helps patients take the first step toward changing their toxic social circle.
The thought of no longer spending time with friends can scare many people. However, they need to think about the friendships that they'll develop during rehab. Many people make new friends who understand their emotions because they're in similar stages of life. These friendships can give them the support that they need to maintain sobriety after rehab.
Furthermore, people with addiction have fewer obligations when they enter residential programs. The only thing that they need to focus on is recovery. There's no need to worry about school, career or family responsibilities for the duration of treatment. The point of this treatment method is for patients to set aside those obligations to focus on themselves.
Other Elements That Make Addiction Treatment Effective
No single approach works for addiction treatment. The reason is that each person starts using drugs for different reasons or at different stages in life. The drugs and dose that people take also affect their treatment needs. Effective programs are those that can customize treatment according to those needs.
Providing customized treatment involves offering various therapies. The most common include one-on-one, group and family counseling. However, a lot of rehabs offer alternative counseling strategies such as behavioral, animal and gestalt therapies.
Another element that makes inpatient programs effective is the inclusion of dual diagnosis treatment. Many people with addiction also have other mental illnesses that need treatment. If they only treat one condition, the untreated disorder could reverse that progress. Dual diagnosis programs treat co-occurring disorders at the same time.
The Clearing Offers a Unique 28-Day Residential Program
To make sure that you get the most effective treatment possible for your addiction, The Clearing offers a unique residential rehab program that lasts for 28 days. It includes 120 hours of one-on-one counseling to dig deep into your drug problem and help you achieve recovery. Along with addictive behaviors, the issues that we treat include:
Basic skills are the foundation of our focus on emotional, mental, physical and spiritual well-being. Our therapists use these skills to create safe environments for treatment. We also use several therapy strategies to facilitate recovery.