Substance Abuse Programs
Enrolling in the right substance abuse programs can make the difference between overcoming addiction and relapsing. At The Clearing, we understand this, which is why we take great pride in the programs that we offer. We create a unique program for each of our clients to meet their individual needs.
Substance Abuse Programs That You Can Count On
At The Clearing, we work hard to help you overcome your addiction. The hard work that we do for our clients shows in our success rate. Over 80% of our graduates report being free of their addiction. Most rehab centers that use a traditional 12-step program typically report a 5% success rate.
Non-12-Step Rehab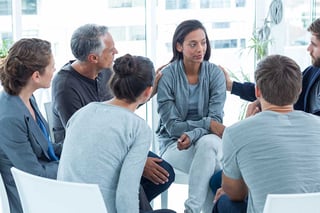 One reason for our high success rate is our non-12-step rehab approach. Most rehab centers use a traditional 12-step program. These programs take a textbook approach to treating addiction. At The Clearing, we know that everyone is different, and the same process doesn't work for everyone.
Our 12 steps alternative program offers more flexibility than traditional substance abuse programs. Another benefit of non-12-step programs is that our therapists work extensively to discover the underlying cause of an addiction. To truly help you with addiction, we dig deep to find out what caused the problem in the first place.
The goal of our program is to empower you and leave you free of guilt and shame. We take psychological strategies and blend them with Spiritual Psychology. Some of the benefits of our non-12-step program include:
Effective

counseling strategies

Animal therapy

Loving and caring staff

A program that builds progressively as you grow
Teaching Our Clients About Triggers
At The Clearing, one of our goals is to get you ready to reenter society after completing your rehab stay. We do this in a number of ways, including teaching you about addiction triggers. Understanding your triggers can make the difference between falling victim to relapse or staying drug free.
People have a range of triggers. Common ones include places, people, stress, and events. Identifying the cause of addiction is just one of the ways that we can help you identify your triggers. Having the ability to identify your triggers can help keep you out of situations that would typically cause relapse.
Not a Vacation
Many rehab centers market themselves as the perfect vacation spot. While this sounds nice on paper, we know that it takes more than a vacation to get over your addiction. Our substance abuse programs put people to work. We've found that people don't get stressed out as easily with this approach.
Since The Clearing sits on working farmland, a lot of the work that our clients do involves animals. This method benefits both our clients and animals in a number of ways. First, studies show that animals are very therapeutic. It also teaches our clients that others can rely on them.
The animals benefit from this deal as well. They're used to people and crave human interaction. With so many animals, it's hard to give all of them the attention that they deserve.
Let The Clearing Help You Overcome Addiction
Don't waste another day of your life at the mercy of your addiction. At The Clearing, we can help you overcome addiction in a safe, effective way.
We provide a number of programs and create custom plans for every single client. To make custom plans, we mix and match the programs that we offer to meet individual needs. Some of these programs include:
Our residential rehab program also offers a number of helpful counseling and therapy sessions. For example, we offer both individual and group therapy options. We even have therapy sessions that include your whole family.
Food is only as good as the place in which you enjoy it. San Juan Island provides the perfect backdrop. This island is nothing short of paradise with deep blue waters and deep green forests. The area is the perfect getaway for people to truly focus on rehab.