Tour

The Clearing was created from the beginning with the comfort of our guests in mind. If you've made it this far, you know the Program at The Clearing is different. You will be busy, involved and called forward to deeper levels of personal introspection. You'll be tired at the end of the day, but the good kind of tired, and awaiting is the most comfortable experience we can provide.
All photos on our site are from our location on San Juan Island unless noted otherwise. Yep, those cookies are real!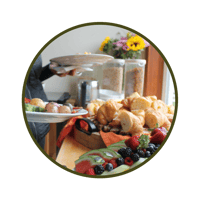 "The Clearing exceeded my expectations in so many ways.
The atmosphere at the estate was very peaceful, welcoming and comfortable. There is no comparison to other facilities, which tend to be chaotic and more institutional. I felt very welcome, comfortable and respected by all staff.
The Clearing's spiritual psychology model taught me so much about myself and healing, and gave me the tools I need to continue to heal.
The food was absolutely amazing, home cooked, healthy. The cooks were accommodating and friendly. I can't say enough about my experiences at The Clearing, many fond memories and life-long bonds and friendships!"
- K.N.
Accommodations

While you focus on the work that brought you here, one major thing we can do to enhance your experience is make you comfortable and welcome. You'll find a tastefully decorated, quality appointed and well maintained living arrangement combining the feel of a warm and inviting lodge with the privacy and comfort of home.
Find comfort in the private and semi-private rooms and bathrooms in our intimate 8-room residence.
The residence has six private rooms and two semi-private rooms. We've limited our size to ensure you get the attention and care you need. It is of the utmost importance to us that we provide you or your loved one with compassionate and personalized care.
Bath and bed linen are high quality, freshly laundered and rotated often. Rooms are attractively decorated, complete with the small touches you'll appreciate over your extended stay. Don't worry, we got it if you forgot it!
The Estate

The Clearing is located on a picturesque 43-acre former equestrian estate on beautiful San Juan Island off the Washington coast. The main residence is a former bed and breakfast transformed into a cozy, tasteful, and comfortable space where you'll feel right at home. There are plenty of cozy nooks for a good book or quiet reflection. The spacious house provides privacy and personal space you or your loved one deserves.
We Take Your Food Seriously

You're our guest for 28 days and we understand our obligation to provide high-quality menus to nourish you during your stay. Our meals include fresh and local ingredients, thoughtfully prepared so dining is a restorative, comfortable, and nutritious break from your day. Locally-sourced meats, seafood, and produce dominate our menus, and seasonally sourced meals take center stage.
Our 24/7 coffee and tea service features our signature coffee roasted locally by our friends at San Juan Coffee Co., your Participant's refrigerator is amply stocked with sparkling water, juices, sodas and snacks, and you'll always find a bowl of fresh fruit and, fair warning, fresh, home-made cookies served daily.
Though we can't accommodate extreme food preferences, we are happy to discuss any questions you may have specific to your diet.
San Juan Island: Northwest Paradise
Sparkling blue waters. Deep green forests. Breathe in the fresh island air and feel renewed, refreshed, revitalized, relaxed. Welcome to the San Juan Islands! Just a scenic ferry ride from the northwest Washington mainland lies a paradise for the adventurous in spirit.
The San Juan Islands are located about 75 miles from Seattle, WA in the northwest corner of the contiguous United States, between the US mainland and Vancouver Island, British Columbia, Canada. There are 172 islands, some little more than rocks, and over 300 miles of shoreline.
We selected this location for The Clearing for it's peaceful atmosphere, both remote and accessible, and what we believe is the ideal place to conduct our healing work.
Getting Here

Whether you arrive by car or plane, our staff will assist and support you as you make your travel arrangements. The ferry ride through the San Juan Islands is one of the most beautiful things you will ever experience. So sit back and enjoy the ride, we have you covered.