Men's Rehab Program
Men typically start using drugs or alcohol earlier in life than women. This teenage or young adult substance abuse stems from greater opportunity to use drugs and greater tendency toward using. However, this isn't where differences between men and women in rehab end. Men's rehab programs address men's substance abuse issues and help them gain lasting recovery.
The Importance of a Men's Rehab Program
Many rehab centers subscribe to a "one-size-fits-all" approach to addiction treatment. In other words, they offer inflexible, universal modalities that are supposed to work for everyone. However, addiction affects everyone differently. Men and women, in particular, often have different needs when it comes to addiction recovery. Take a look at some of the specific challenges that men face when trying to get sober.
Male-Specific Risks in Substance Abuse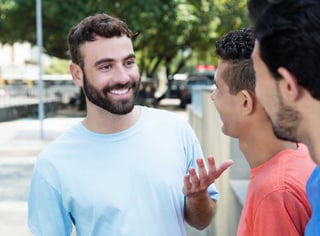 Without enrolling in a men's rehab program, individuals will be vulnerable to male-specific risks, including:
Drug-Related Crime: While under the influence of drugs, men are more likely to commit more violent, property, and criminal offenses. Men are also more likely to traffic drugs. In fact, according the U.S. Department of Justice, 83% of convicted traffickers are men.
Domestic Violence: Many men engage in domestic violence during drug use. Additionally, the National Coalition Against Domestic Violence reports regular alcohol abuse as a leading factor in domestic violence.
Drunk and Drugged Driving: Substance abuse accounts for a significant percentage of drunk driving and drugged driving incidents among males.
Depression: For many men, depression and suicide accompany alcohol and drug abuse. Substances change the brain's natural reward system. This leaves men engaged in substance abuse with major depression after their high ends. Sadly, there's a major link between depression and suicide. The Substance Abuse and Mental Health Services Administration reports increases in male suicide of 55% for individuals ages 21–34.
Medical Issues: Heart disease, cancer, sexual problems, sterility, impotence, and sexually transmitted diseases all affect men who abuse illicit substances.
The Problem with Non-Gender-Specific Treatment
During group therapy sessions, both men and women may feel uncomfortable talking about certain topics. For instance, women may not want to openly discuss traumatic physical or sexual abuse issues. Similarly, men may feel uncomfortable showing vulnerability around women because society teaches males that they have to be strong at all times.
Role of a Men's Rehab Program
A men's rehab program provides focused therapies, education, and treatment to help men recover from drug or alcohol addiction. This focus includes:
Depression and suicide prevention, including education of dangers to mind and body when abusing substances
Long-term treatment plans that take into account the underlying core issues leading to substance abuse and focusing on confronting these problems, healing them, and enabling a drug-free future
Personal responsibility for issues of past misdeeds, including anger, violence and criminal problems that work toward developing a new moral code
Repairing past damage, particularly damage done to family, for healing and acceptance by others
Men's rehab helps men recover from drug or alcohol addiction while gaining strength for lasting sobriety. The most successful environment for drug and alcohol addiction rehab of men is a residential rehab program. Residential treatment provides the highest level of focus when compared to other substance abuse programs.
Rehab for Men at The Clearing
In San Juan Island, Washington, The Clearing provides a unique residential addiction treatment program. Our gender-specific programs provide men and women with benefits toward greater potential for strong, lasting recovery.
Our treatment center resides on a secluded island in Washington State. In fact, only a ferry to the mainland offers transportation to and from our facility. This means treatment at the Washington rehab provides focus, safety and security. Each group of six to 10 individuals start rehab on the same day, working together as peers in recovery for mutual support through the 28-day program.
During these 28 days, the group participants gain 120 hours of counseling, as opposed to the typical program's four to eight hours. Addressing emotional stability is an important facet of the program, as well as healing from trauma. Treatment covers four levels of individual wellness, including physical, emotional, spiritual and mental health.
The Clearing provides treatment including:
Questions? We're Here to Help
Selecting the right treatment option can be a complicated decision.
Call us as at 425-275-8600 to discuss your specific situation and see if The Clearing may be right for you. It's confidential and there's never any pressure.
We're here to help