Alcohol Addiction Rehab

If you're tired of alcoholism beating you down, The Cleaning offers an extensive alcohol addiction rehab experience that can change your life. This may be one of the most difficult decisions you have to make. However, we're here to let you know it's going to also be the best. Alcoholism is one of the leading causes of preventable death. The first thing you need to do is admit that you need help and can't do it on your own.
Getting Help at an Alcohol Addiction Rehab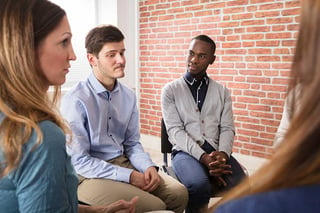 Many people who struggle with alcohol abuse and addiction believe they can overcome these issues on their own. Not only is it dangerous due to the withdrawal symptoms, but it's one of the leading causes of relapse. If it were as simple as just deciding not to drink, many people would have gained sobriety a long time ago. However, we're here to help you understand how powerful the disease of addiction is and why you need help.
Addiction involves a mental obsession and physical craving, which is why it's so difficult to overcome. Your mind believes that alcohol is the best way to cope with the stresses of everyday life. If you're reading this, you've most likely found that this old solution has now become your biggest problem.
Understanding Triggers
At The Clearing, our goal is to help you get down to the sources of your drinking and then provide you with tools to avoid relapse. Without knowing what's triggering your addiction, it's going to be extremely difficult to overcome the issues without alcohol. Each person who comes to treatment has a different story, so triggers may vary. Some of the most common triggers of people who struggle with alcoholism include:
Symptoms of mental illness
Loneliness
Poor self-image
Stress
Family
During the recovery process, we give our clients the full attention that they deserve. Through a variety of different therapeutic methods, we're going to help you begin the healing process. This is going to help you avoid relapse in the future as well as repair relationships with the people you care about. Treatment is also going to open up opportunities for you to become the person you always dreamed of being.
How Therapy at Our Alcohol Addiction Rehab Works
Individual therapy is a very important part of the treatment process. In this type of setting, you'll be working with a therapist who will get to know you and your story. This is beneficial for a variety of reasons, and the main one being that you may have issues from your past or present that you'd prefer to keep private. These sessions are going to give you the opportunity to discuss some of the deeper issues that have been fueling your addiction while also finding solutions.
Group therapy sessions are beneficial as well because of the peer support. Many different substance abuse programs encourage group sessions because studies show that they work. There's no better way to get additional support than from people who have been through what you've been through. You'll start seeing how peer suggestions and friendships are some of the best ways to stay sober.
The Benefits of The Clearing
Here at The Clearing, we treat anyone struggling with addiction or mental health issues. Our unique 28-day residential rehab program is here to teach you a new way of living without the use of drugs or alcohol. While we know there are some people who benefit from 12-step programs, we're here to offer you an alternative as well.
Our program is about getting down to the underlying core issues. Instead of inflexible program modalities, professionals at our Non 12-Step rehab center in Washington uses Spiritual Psychology as the basis for healing.
Along with small group sizes of no more than 10 at a time, clients begin and complete treatment at The Clearing together. Along the way, they learn how to share in each others' successes and develop bonds that extend far beyond our San Juan Island facility.