San Juan Island: Northwest Paradise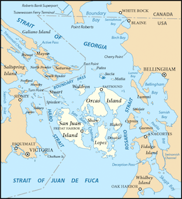 Sparkling blue waters. Deep green forests. Breathe in the fresh island air and feel renewed, refreshed, revitalized, relaxed. Welcome to the San Juan Islands! Just a scenic ferry ride from the northwest Washington mainland lies a paradise for the adventurous in spirit.
The San Juan Islands are located about 75 miles from Seattle, WA in the northwest corner of the contiguous United States, between the US mainland and Vancouver Island, British Columbia, Canada. There are 172 islands, some little more than rocks, and over 300 miles of shoreline.
The Clearing is located in a peaceful atmosphere on a 43-acre estate on San Juan Island. This location was selected because it is both remote and accessible, and provides an ideal place to conduct our healing work.
Estate
The Clearing is located on a picturesque 43 acre estate on beautiful San Juan Island.
Take a tour of our estate here.
Food
See examples of the
delicious meals
we serve at The Clearing.
Getting Here
Getting to San Juan Island is a memorable trip and can be accomplished in two equally beautiful ways. The ferry ride to San Juan Island is a breathtaking experience; equally stunning is a short flight over from Seattle International Airport. Let our talented and experienced team support you in making your
travel arrangements
smooth and stress-free.