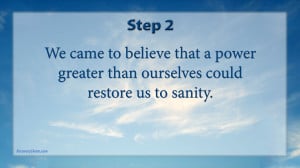 Here's the 2nd in our series on the 12 Steps addiction treatment program and how each step compares with a 12 Steps alternative approach. We understand the 12 Steps have helped many, many people over the years, and we respect that success.
We also recognize that the approach does not work for everyone. We'll look at each individual step until we're done with all 12 Steps.
The main purpose of this series is to present an alternative perspective on the 12 Steps you may not have considered. We want to make it easy for you to understand the differences as you go through your addiction treatment research.
What is the AA 12 Steps Addiction Treatment Program?
The AA (Alcoholics Anonymous) 12 Steps program has been in existence since 1937. It was created by an alcoholic for other alcoholics, and relies on group support and behavior modification to very large degrees. It is still the main healing protocol and approach in the vast majority of addiction treatment programs (including very expensive residential treatment centers). Since that time though, there have been many breakthroughs in psychology, spirituality and healing, but the 12 Steps have not been updated to take advantage of these advances. With that said let's look Step 2 of the Twelve Steps.
Another Perspective on Step 2 of the Twelve Steps Program
Step 2 of the Twelve Steps program states:
"We came to believe that a power greater than ourselves could restore us to sanity."
Faith is a wonderful thing. However, does dependence on a 'greater power' for one's sanity give the wrong message to people struggling with substance or alcohol abuse? Does it help or hinder the recovery process?
Unfortunately, this message has been given for such a long period of time that it is widely accepted as the absolute truth. While this message may have been earth shattering in the 1930s at its inception, in the modern, evidence-based era, it may miss the mark.
The belief that a greater power will swoop in and fix everything might be viewed as telling recovering addicts to give up helping themselves. As we look for God, parents, or even the government to care for our needs, the meta-message we give to ourselves is that we are not capable of caring for ourselves. But in fact, real recovery takes hold through our own efforts, not someone else's. All that is needed is the proper guidance, and faith can be a big part of that. When alcoholics or those suffering from other addiction learn the proven evidence-based strategies and apply them, amazing results are not only possible, but probable.
Real Recovery Comes From Within
Real recovery from alcohol or drug addiction takes place when people who are suffering are assisted in discovering their own solutions. When people take on the challenge of continually finding the solutions to problems as they crop up in life, a permanent change can be achieved. This is a message of empowerment.
The newer, non 12 Steps addiction treatment programs are combining faith and spirituality along with psychology in an effort to treat mind, body, emotions, and spirit. The higher power in the Spiritual Psychology (our) approach is used as a co-creator. This higher power is actively prayed for, visualized, and included in the healing process but used in conjunction with us taking steps to help ourselves and being consciously aware of what we want to create in our lives.
When we look for a power greater than ourselves to simply heal us while we sit there and do nothing, we can disempower ourselves. We are very powerful creators in our own right and are meant to consciously create in the world. All of our past intentions have given us our current reality. Our current intentions can and will create our future reality.
Spirit Meets Us at Our Point of Action
The big potential issue with 12 Steps Step 2 is the tendency to put our full faith in an outside being to solve our problems for us. If we choose to wait for this power to help us while we do nothing, then nothing is what tends to happen. But if we learn to focus our actions in a positive direction, a power greater than ourselves adds to the mix in virtuous, reinforcing way. As the saying goes, "God helps those who help themselves."
About The Clearing
The Clearing is a residential treatment center located on beautiful San Juan Island, Washington. We created The Clearing in response to the pervasiveness of treatment centers that focus more on luxury than modern, evidence-based therapy.

Our approach is based on healing the underlying core issues that cause addiction. If you'd like to learn more, contact us, or download our free eBook: