12-Step Alternative Addiction Treatment Programs
Founded by Alcoholics Anonymous, the 12 Steps have helped people overcome various substance abuse issues. Many rehab centers have adapted the program to suit their clients' needs. However, it's not the only solution for treating drug addiction. Many addiction treatment programs use alternative approaches to help people get sober and stay sober.
Unique Addiction Treatment Programs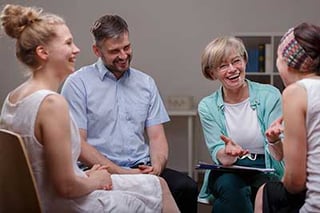 SMART Recovery is a widely recognized 12-step alternative approach. Its program focuses on empowering addicted individuals through group support. This four-point approach teaches people to build and maintain motivation and cope with urges. It also teaches them how to manage behaviors, feelings and thoughts to achieve balanced lives.
As a nonprofit group, Refuge Recovery has an extensive network of communities, groups and meetings. This network uses Buddhist philosophy as the basis for addiction treatment. It practices, educates and provides Buddhist meditations and teachings, especially mindfulness. The group also believes that everyone has the power and potential to obtain freedom from addiction.
As the name suggests, Women for Sobriety empowers women to embrace recovery through sharing and support. The group bases its education program their gender-specific emotional and physical needs. It teaches women skills that focus on healthy living, emotional and spiritual growth, and self-esteem.
Alternatives Addictions Treatment is a group that also tailors treatment according to each person. The co-founders believe that there's no single solution to addiction treatment and related issues. Using moderation as a foundation, some of its programs include Self-Discovery Bootcamp and Life Transformation Addiction Treatment.
Secular Organizations for Sobriety (SOS) uses suggested guidelines rather than a structured program. A former problem drinker founded the group after feeling uneasy with the spiritual aspects of the 12 Steps. The group focuses on personal obligation and self-reliance to deal with alcohol problems. It forces members to make sobriety their priority to prevent drugs from becoming the focus of their lives.
Some SOS groups branched off to create LifeRing Secular Recovery. Its three principles include helping one's self, abstaining from drugs and separating addiction from religion. With abstinence the priority, it believes that personal effort and motivation are the key to rehab. The main purpose of the group is to support its members' efforts to remain abstinent.
Unique Treatment Approaches
Some addiction treatment programs use unique approaches to recovery. One of these is one-on-one coaching. The other is transpersonal psychology.
Private abstinence coaches are possibly the most expensive solution for addiction treatment. While it's more common for celebrities to have specialized coaches, they're available across the country. The coaches may provide 24-hour support and care, and some of them go with clients on errands. Along with being available daily or weekly, some coaches live with their clients.
Spiritual Psychology is a form of transpersonal psychology that studies human growth and development. This approach considers three key areas that include holistic, ego-transcended and transformative psychology. It focuses on positive influences to realize human potential. The technique urges people to see that they're capable of ending drug and substance abuse.
The Clearing Uses Spiritual Psychology in Treatment
If you're struggling with addiction, 12-step alternative addiction treatment programs at The Clearing can help. On our 43-acre property in San Juan Island, Washington, we provide a quiet and safe place to recover. Rather than use the 12-steps approach that other addiction treatment programs use, we practice Spiritual Psychology.
During our 28-day program, you'll receive 120 hours of one-on-one therapy. Some of our other counseling strategies include:
Group therapy

Family systems

Core transformation

Reality therapy

Self counseling
Through our Spiritual Psychology-based program, we focus on four levels of self-improvement. These include mental, emotional, spiritual and physical well-being. Despite our spiritual focus, our approach isn't religious. Our goal is to help you identify and heal the emotional and mental issues at the core of addiction.
Questions? We're Here to Help
Selecting the right treatment option can be a complicated decision.
We're here to help